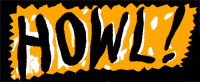 The HOWL! Opening Night Party is this evening at Angel Orensanz Foundation, with stuff and things beginning at 7pm and continuing until 11.
I wrote about the festival earlier, and this kick-off sounds more than passing promising. The details, from their own site:
Wednesday Aug 20th
7:00 PM - 11:00 PM
HOWL! opening night party
Art Salon & Auction
What: 7:00 PM Book Release Party for 2 FEVA publications
Captured - A History of Film and Video on the Lower East Side Created by Clayton Patterson, Designed by Alexandra Bourdelon, Edited by Paul Barlett and Urania Mylonas.
8:30 PM Art Auction & Exhibition on the Bohemian Balcony Curators: James Romberger and Marguerite Van Cook with David Leslie, Steven Kaplan, Gary Ray, Norman Douglas Howl Souvenir Book, edited by Greg Masters
9p.m. Fashion Show
DJ Liquid Todd from K Rock, Go-Go Boys and Girls, Beer and more..
Where: Angel Orensanz Foundation 172 Norfolk St. (between Houston & Stanton)
Tickets: $5.00
I'm definitely going to be there, but since Barry may have to come late, HOWL! and I could both use a few dozen dates.