Phil Collins, enduring freedom 2002
[the image is not part of the current NY show]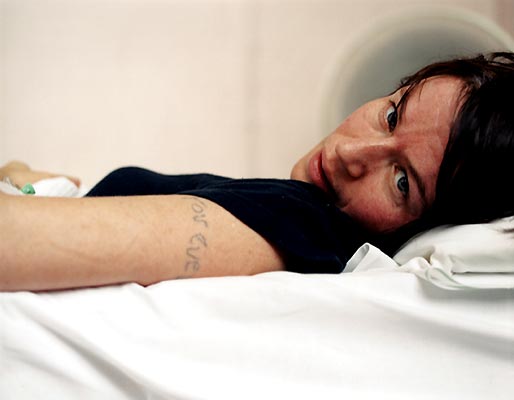 Phil Collins, fov evevr 2003
[image currently at Maccarone Inc.]
I've been very bad. Barry and I went to the Phil Collins show at Maccarone Inc. last Sunday, and I'm only getting around to writing about it a week later.
It's a wonderful, intelligent gallery and an exciting space, particularly right for this aesthetic. Rough. No, tough, but with much warmth. Collins's work is breathtaking, and its presence in these rooms is just right. We arrived on a beautiful fall afternoon, in the full light of day. I hope you schedule something similar. You'll be on vibrant eastern Canal Street, just before the entrance to the Manhattan Bridge.
Collins's images are incredibly powerful even if you're ignorant of their context. The context, at least for some of the work in this show, that dealing with asylum-seekers, refugees and the displaced, is provided by an incredible video running on the ground floor. I had gotten all of the way up the stairs before Angela told us that the raw storefront space below was now part of the gallery. We headed back down to view an extended, much-violated and frightened Kosovo family being shuffled around a large couch for a group photograph, but not before we watched one boy, a beautiful injured teenager who was unable to remember much of anything about his assault, being questioned about the scars he shyly revealed to the camera.
On the third floor are intimate but incredibly strong images of people who answered a newspaper advertisement asking for people who would agree to strip for his camera in a hotel room rented for the purpose. Collins is from Northern Ireland and has lived in parts of the former Yugoslavvia and other parts of the world which have suffered from ethnic violence. The hotel was in Basque San Sebastian. The results apparently surprised even the artist.
Collins's larger body of work is about the impact of social and political conflicts on human beings everywhere in the world, and it's also about his own relationship to his subjects. He is able to remove himself from the people he photographs only far enough to complete his record. He remains involved, and we are drawn in along with him, never to leave altogether.
Only after we were already home did I think about the fact that we had no idea what the photographs were selling for. In fact, were they actually for sale? It had not occurred to either of us that what we had seen might have any relationship to commerce. I still haven't asked, but I'll be going back.
Visit Maccarone and Collin's work. I think you still have all of this month. Sorry, the website isn't finished yet. The gallery, located at 45 Canal Street, near Chrystie, is open Wednesday through Sunday from noon until 6. You'll see three floors of an old mercantile building and a great artist's humanity - and much of the greater humanity, including the inhuman parts.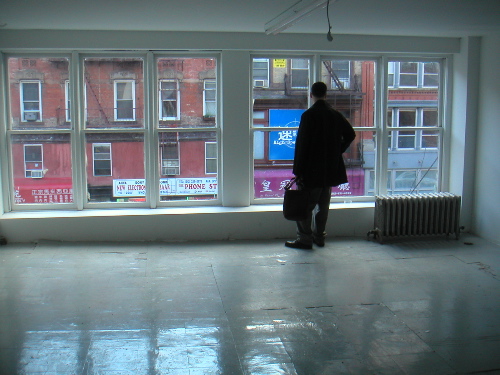 From Maccarone's third floor, Barry included


[Enduring Freedom image from Kerlin Gallery, Missing from fashionoffice]