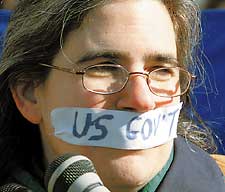 Drake University law professor Sally Frank


"a culture distracted into obedience by fear" [from a press release for a show, Halliburton", of paintings by Adam Simon opening Friday at art Moving, 166 North 12th St. in Williamsburg]
Oh, I've neglected this followup until now.
The immediate crisis is over for this particular group.
Federal authorities retreated Tuesday in their investigation of an Iowa anti-war demonstration, withdrawing grand jury subpoenas delivered last week to four peace activists and Drake University.

The shift came as the investigation drew nationwide condemnation from civil liberties advocates, politicians and peace activists.

Also Tuesday, a federal judge lifted a gag order on Drake, where employees had been ordered not to discuss an inquiry into a meeting the anti-war activists held there Nov. 15. Federal authorities had asked for records of the campus chapter of the National Lawyers Guild - which hosted the anti-war conference - and for the impressions campus police had of the gathering.
Ah shucks,
Barry
.
But, seriously, it was the memory of the various surveillance authorities at all those old ACT UP meetings and demonstrations, including our own civil disobedience training sessions, that made this particular outrage so disturbing for me.
And we know the obscurants are even now regrouping for another opportunity to spread the fear with which they hope to preserve their power.
One reaction, picked almost randomly, appears in an editorial of The Examiner, where the outrage is much more restrained than that which can be found elsewhere, even among very reasonable people.
While it was good to learn the subpoenas had been withdrawn, the fact that they were ever issued raises some disturbing questions about why. An explanation put forward by many civil-liberties groups and peace activists is that it was a maneuver by the federal government to suppress antiwar activities by making potential participants afraid they could be arrested or prosecuted. Indeed, word the subpoenas had been withdrawn came as lawyers for Drake were preparing to fight the demands. They had intended to argue that the subpoenas would have put a damper on students' constitutional rights to free speech and free association.

We'd like to think that's not true. We'd like to think that partisan politics would not lead to abuse of the federal law-enforcement system. We'd like to think that public servants would not capriciously abandon their oaths to uphold the Constitution. But over the past few years, when the ability of the government to reach into the details of our private lives has been exponentially expanded without even the most basic oversight of a judge brought into play, it's become difficult to think that way. It doesn't help that everywhere the president goes, people who want to express opinions opposed to his are sequestered in distant pens insultingly labeled "free-speech zones."

No, it unfortunately appears that the Drake subpoenas were inappropriate and unnecessary at best, and quite possibly nothing less than callous political thuggery.
[image from Common Dreams]