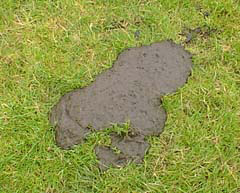 (not that he's going to notice)
SLACKTAVIST was there first, months ago.
"Reagan's Bind" describes the conundrum in which one is unable to explain or defend one's actions except by ascribing them to either: A) malicious intent; or B) glaring stupidity and/or incompetence.
Today
Mark Morford
brings us up to date:
It is [also] the eternal Bush conundrum. How to appear sort of blank faced and ignorant of the true atrocities your administration commits so as to avoid any sort of direct accountability, and yet still pretend to be a savvy, aware, tough-guy leader who gets things done and takes no bull and launches unprovoked wars on anything that stands in the way of his dad's portfolio.

After all, it has always been far too easy to smack BushCo around as being an aww-shucks dumb-guy AWOL simpleton daddy's boy with a low-C average and a painfully inarticulate approach to the world, coupled with an astounding, world-famous ability to mangle both the English language and every foreign policy ever implemented.

It's always felt like a bit of a grand ruse, Bush's Forrest Gump-style dunderheadedness, a clever (if entirely plausible) way to deflect much of the responsibility for his regimes's carnage, all designed to make the nation believe that this guy simply couldn't be all that bad because, well, he just ain't all that bright.

But, ironically enough, as far as the Abu Ghraib mega-scandal is concerned, Bush has dug his own hole. It is his very own bull-headed, infantile, stay-the-course, admit-no-mistakes, bomb-first-ask-questions-never approach that has caged him in and makes any move toward getting the U.S. out of the Iraq quagmire nearly impossible. It's not the sign of a dimwit. It's the sign of a dimwit with delusions of shrewdness. Which is, of course, far more dangerous.

. . . .

Maybe Bush is stupid in a way that is far worse, and far more dangerous for the health of this planet, than mere inarticulate, nonintellectual, semiliterate Texas cow-pie bumbling.

It is, in short, the stupidity of the indignant and the self-righteous, of the morally arrogant, of someone whose power base is threatened and yet who is still blindly forcing America down this nightmare path, even when all signs and all leaders and all U.N. councils and all weapons investigators and all flagrant U.S.-sanctioned rapes and tortures are veritably screaming in his face that it is a mistake of increasingly epic, treacherous proportions.

And so maybe, ultimately, it all comes back to us. Maybe it is the majority of people in this flag-wavin', happily deluded, fear-drenched country who can't believe it could happen, who simply, you know, "misunderestimated" just how poisonous Bush's savage brand of stupidity really is.
[image from leafpile]