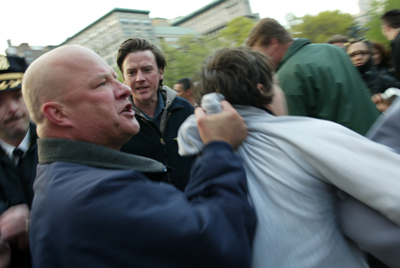 Chief Smolka doing his thing
UPDATE/FOLLOW UP: When I posted my April 30 story, "political police thuggery in New York," I wrote that I was unable to find the dramatic photograph which acccompanied the print edition of the NYTimes article. I've now located it on New York indymedia, thanks to the photographer, Antrim Caskey.
I've also changed my post's link for the Times news story to this indymedia site, reducing the chances that it will disappear very soon. There are some additional comments about the incident on this site, including a call for photographs and video from anyone who witnessed it.
[image by Antrim Caskey from nyc.indymedia]