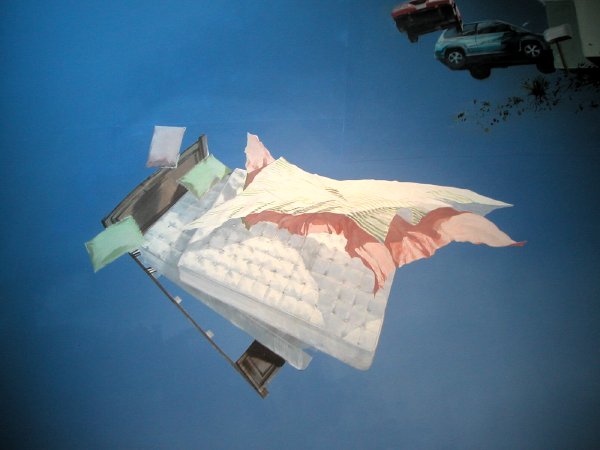 Adam Cvijanovic Love Poem (10 Minutes After the End of Gravity) 2005 Flashe and house paint on Tyvek [detail of large room-size installation]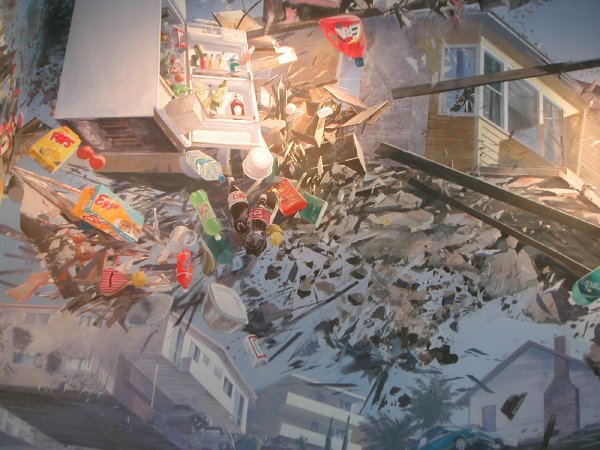 Adam Cvijanovic Love Poem (10 Minutes After the End of Gravity) 2005 Flashe and house paint on Tyvek [detail of large room-size installation]
I snapped these images on the fifteenth, so it's taken me over two weeks to get them up onto this site. I blame it on Katrina.
I love Adam Cvijanovic's latest show at Bellwether, but then I think eyes which wouldn't have yet to be born. The fact that his murals are absolutely crazy about the camera is only a wonderful bonus.
I wish I could introduce him and a patron to some deserving performance space with the bare surfaces of its foyer, hall, stair hall or ceiling dying to be brought to life. I'd buy a subscription for life. I now understand why Tiepolo was so popular with his contemporaries.
The show is titled "Love Poem (10 Minutes After the End of Gravity)" and it's up until October 15.