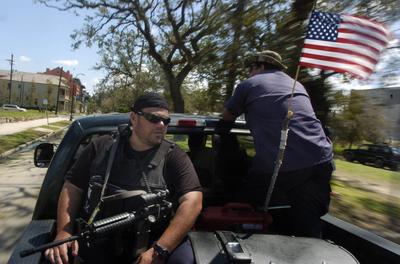 NOPD officers Danny Scanlan and Juan Lopez keep a watchful eye during patrol Thursday, Sept. 8, 2005 in New Orleans. [caption of the Times Picayune]
Jordan Flaherty continues to write from Louisiana, and on Friday he argued that the most serious damage done to New Orleans was not the consequence of the hurricane or even of the floods which followed the breaks in the levees. An excerpt follows.
But the worst damage is what is being done now, this confluence of forces barraging New Orleans and its Diaspora, what some local organizers have referred to as the Disaster Industrial Complex. This is the perfect storm created by an orgy of greed and opportunism engaged in by the jackals of disaster profiteering. The list of those who are gaining from our loss is large, and it includes everyone from the heavily armed thugs of Wackenhut Security and Blackwater USA to the often well-meaning but ineffective bureaucrats of Red Cross and FEMA, to the Scientology missionaries crowding the shelters, to journalists and disaster-gazers taking up a chunk of available housing, to the major multinationals such as Halliburton, working in concert with rich elites from uptown New Orleans seeking partners with which to exploit this tragedy.

These are the institutions and individuals poised to profit from this disaster, while the people of New Orleans face nothing but further dislocation and disempowerment.

. . . .

Whether its in the shelters or in the streets of New Orleans, this may go down as the most militarized "relief" effort in history. The Chicago police are camped out on a bar on Bourbon Street. Wackenhut security convoys are riding in and out of town. Israeli security patrol Audubon Place Uptown. White vigilante gangs patrol the West Bank, with tacit permission of local authorities. National Guard and Blackwater are on patrol throughout the city, along with DEA, INS, State police, New Orleans police, NYPD, and countless other agencies.

. . . .

This militarization of New Orleans stands in stark contradiction to the people's efforts at reconstruction. The Common Ground Collective, in the Algiers area of New Orleans, has built a community health center and food distribution network serving, according to organizer Malik Rahim's estimate, about 16,000 people in New Orleans Parish and surrounding areas such as Plaquemines and Jefferson Parishes. "Have the police helped us?" asked one local organizer, "no, they've stood in our way at every turn."

. . . .

Today I received a call from Royce Osborne, a local filmmaker who made the New Orleans classic film All On A Mardi Gras Day. Royce is also a community activist and one of the Mardi Gras Skeletons, another Black Mardi Gras tradition. Royce told me he's aching to come back, and looking forward to Mardi Gras 2006. "If we see the Indians out on the streets in the next Mardi Gras, then I'll know there's hope for New Orleans," he said.
[image by Michael Democker for the Times Picayune]