The entire headline, taken from another blogger's post, reads:
STOP THE FUCKING PRESSES! A DEAD WHITE RICH GUY WHO WORE A BLACK ROBE FOR A LIVING IS LAID TO REST IN DC!
Some people are very mad. Very, very mad. I see sense in all of it.
James W. Bailey* is from New Orleans. He sees a connection between two of today's big stories, and it's a connection we should all be able to recognize, on the day a powerful man is laid in the [dry] ground.
On his website Bailey shows a Washington Post photo of Bush standing on polished marble floors beside a flag-draped coffin resting on a plinth. At the foot of this monumental assemblage stands a huge bouquet of flowers professionally arranged (although part of their traditional function, disguising the odor of rotting flesh, had been rendered unnecessary by the attentions of an embalmer). Inside the fancy box is the body of William Rehnquist.
Below the Post image is a very different picture.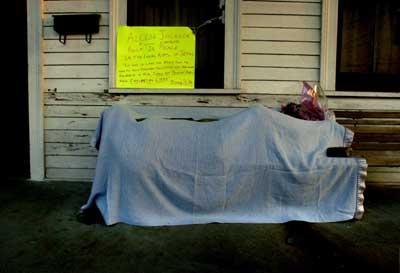 The corpse of Alcede Jackson is reverently laid out on his front porch and abandoned with a blanket held down by slate and a epitath on a poster board. [caption of Times Picayune dated September 6 (text not included on Bailey's site)]
Bailey's site continues:
The corpse of Alcede Jackson is reverantly laid out on his front porch in New Orleans. President Bush and first lady Laura Bush were unable to attend Mr. Jackson's funeral. Some in New Orleans are suggesting, since he couldn't attend the funeral ceremonies for Mr. Jackson because of a pressing schedule engaged in the War on Terror, that the President should consider sending the surviving members of Mr. Jackson's family an American flag that has been flown over the Supreme Court Building. Although Mr. Jackson was not a rich white guy, and did not wear a black robe for a living, he did in fact wear black skin...and for all of his life.
No flag.
*
UPDATE: if you go to this link the first image you will see, according to the artist, was shot in the Lower 9th Ward in 1994, the area of the city that sustained some of the worst of the current flooding. Mr. Jackson, whose remains and memorial are pictured in the Times Picayune photo lived in the Lower 9th Ward
[if anyone has access to a larger image than the one I used here, please let me know, and I would like to see the entire text of the yellow sign]
[image by Ted Jackson from the plucky and courageous people of the Times Picayune]