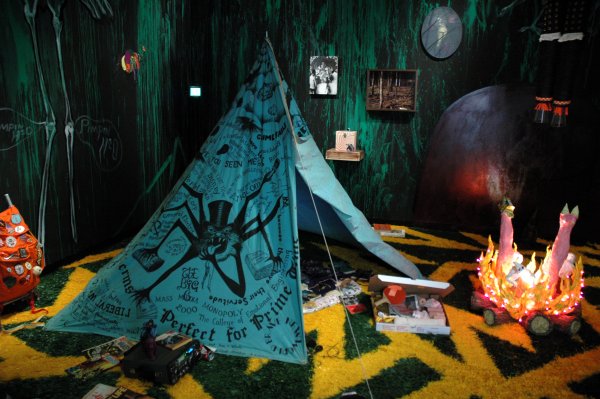 "Kamp K48", a large detail of the installation inside the "JCP Annex"

Shay Nowick Protest Banner 2005 acrylic on cotton fabric 4' x 6' [view of installation, with a glimpse of Hrafnhildur Arnardottir's "The Hairy Hunchback" on the right, Hug & Magnan's "Chainlink wallpaper" behind, A.L Steiner's "Untitled (trail of loathsome slime)" to the right, and rachel Howe's "We Lit the Fires (Misfit)" on the left]

Noah Lyon 50 Cent Friendster (aka White Tees) 2005 marker and collage on canvas 9" x 12" and It's Lonely Being Lonely aka Breeeaaaast Milk You Made My Daaayaaa!!! 2005 paint and marker on canvas 9" x 12" [view of installation]
John Connelly's last show of the summer, which closed last week, was ostensibly about camp, but not the one in Susan Sontag's notes, and not the one your parents thought they were sending you to. "Kamp K48" was the inspiration of Scott Hug, the artist, curator and publisher of the magazine K48. From the press release:
For this outing, Troop K48, consisting of artists who have been affiliated with K48 throughout the years, will take you on an artistic hike through the breathtaking scenery and boundless beauty of the natural world.

The exhibition plans to explore both the stereotypes and realities of our relationship to the environment, how nature is sometimes used as a marketing campaign and how we have cultured nature to suit our own needs. In the installation, nature and the art it has inspired has been visually fenced in, either to keep you out or to keep it in. The 48+ contributors in Kamp 48 have been working from their own ideas of nature to create a campsite where mass media's manipulation of nature is fully explored. Featured works take cues from horror movies, abduction stories, troop leaders gone wild, alien abductions and the army-like transformation of boys to men under the stern direction of the Boy Scouts of America.
But if you made it to 27th Street last month, it wasn't really that simple; camp probably never was.
See the review by Wayne Northcross in Gay City News.
I have to single out the work of an artist in this show of whom I haven't seen enough lately. Deborah Mesa-Pelly had three modest-sized photographs mounted in different areas, and I can show images of two of them here. The second was a big surprise when I uploaded my card onto the computer, since it hung in almost complete darkness inside the gallery's smaller room described as the "JCP Annex".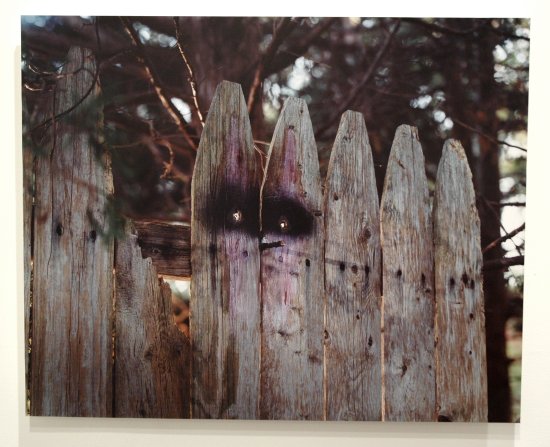 Deborah Mesa-Pelly Racoon Eyes 2005 C-print 19" x 24" [installation view]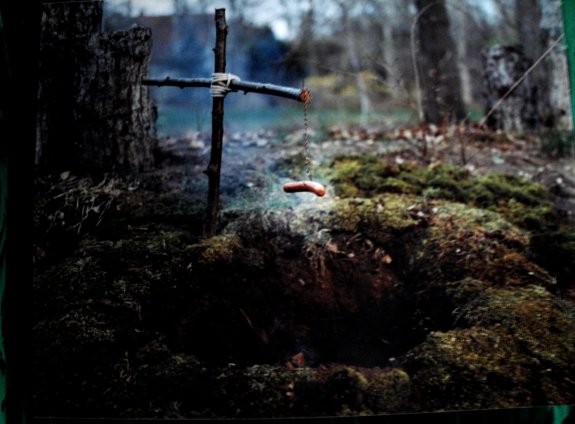 Deborah Mesa-Pelly Wiener Hole 2006 C-print 15" x 19" [large detail of installation]