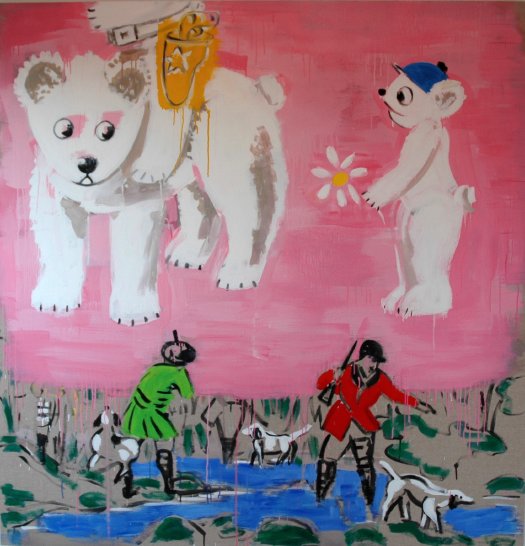 Jessica Weiss Play 2006 acrylic on linen 72" x 68" [installation view]
I couldn't immediately find a happier image to post on the morning of December 25 than this one by Jessica Weiss. I found it yesterday afternoon when we headed out to Williamsburg and visited her show at A.M. Richard, a new gallery on Berrry Street, near South 4th. The three bright rooms are one flight up in a 150-year-old house; I think of it as an homage to the old Williamsburg gallery scene.
Weiss uses images found on not-quite-so-vintage wallpaper, the kind which covered the walls of our childhoods. She paints, she draws, she prints, she does collages and sometimes she does all these at once.
The show is titled "REPLAY". While in each case the original inspiration is totally removed from its original comfortable context, her inventions and her added abstractions look perfectly right. Although they have emerged as totally new images, they are somehow as familiar as they may once have been - and always very beautiful.