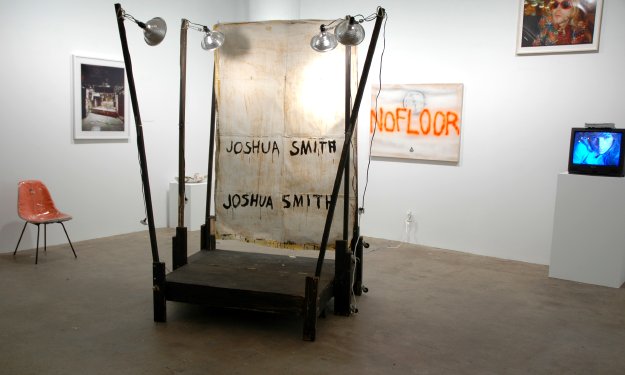 [installation view, showing a large piece by Joshua Smith in the center front and, from the left, works by Holt Quentel, Ofer Wolberger, Jamal Cyrus, Michael St. John, Alice Wheeler, and ALex McQuilkin]
It's a top pick on ArtCal, and for a very good reason. It's hot, and very cool. Kathleen Cullen is showing a provocative group show curated by Michael St. John this month.
Can we still use the word "provocative" in the 21st century when describing art? I think we can, and my argument would rest on the fact that somewhere in this country a people either frightened or complacent apparently chose twice in the last six years to install a government whose hideous record continues to mount for all the world to see. This is a people which can and must be provoked, but unfortunately they are not likely to visit a gallery on West 26th Street.
From the press release:
When the Revolution Comes is a heteroglossic meditation on the highly diffuse intertextuality of the moment, presenting works created on the stubborn premise that they are out of step, not versus hot, fashionably unfashionable, against all odds, and, of course, 'staying the course', though only in the immediacy of each artist's own creative evolution. Sincerely, the revolution will never come, and ironically, people still die waiting for its arrival.
The title of the show is "When The Revolution Comes", and its a doozy. The artists included are Nate Lowman, Holt Quentel, Ofer Wolberger, Nancy Grossman, Josh Smith, Alex McQuilkan, Joshua Weintraub, AJ Bocchino, Ellwyn Palmerton, Jon Boles, Michael St. John, and Jamal Cyrus.