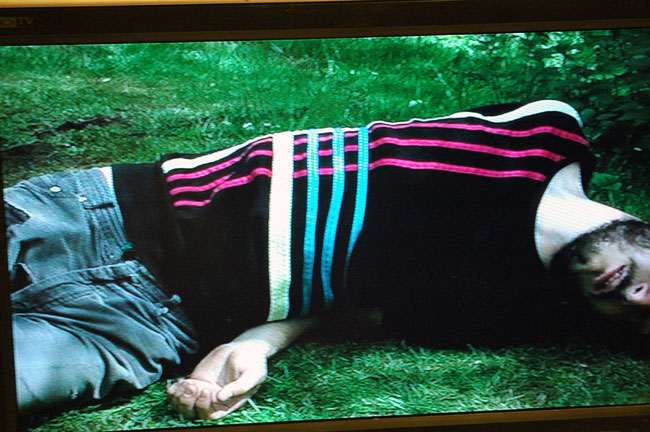 Matthew Lutz-Kinoy When I die this summer, what shirt will I be wearing? 2006 video [large detail of still from installation]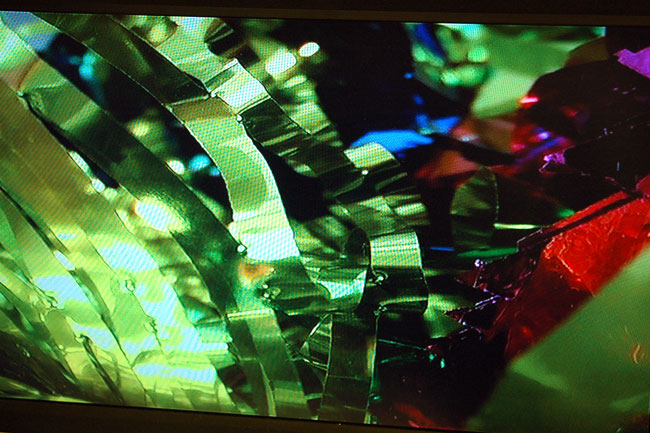 Matthew Lutz-Kinoy Studio Danse 2006 video [large detail of still from video installation]
After following myself being very much taken with work by a third and then a fourth artist represented in her DIVA suite, and while contemplating a rather pervasive gallery theme of homes and homelessness, I told Yukiko Kawase that were I living in Paris I'd want to live inside her Montparnasse gallery; her program is that good.
But once again, even more than the other inspired, largely performance-oriented work she was showing on Sunday, it was the extraordinary unbridled creativity of Matthew Lutz-Kinoy that totally did it for me.
In the video "When I die this summer, what shirt will I be wearing?" [still shown above] Lutz-Kinoy repeatedly fakes his death by lying motionless on the grass in a series of dramatic postures while clothed in an equal number of snappy tops.
"Studio Danse", takes advantage of the video camera's technical facility with movement. In this piece, according to the press release, "he explores how people are influenced by sound and colour, in the manner of subliminal messaging".
At 7:30 tomorrow night (Thursday) Lutz-Kinoy will be performing together with his charming, adventurous and inspired gallery stablemate, Andres Laracuente, in "JJ & Cecel: Melt In The Sun Freeze Underground" at Galapagos Art Space, in a double bill with with Imagination Explosion's "PRO BONER SHOW TOUR". Lutz-Kinoy and Laracuente play Egyptian slaves and will be using large sculpture, video and live music to address issues of mental and physical enslavement - and dreams and magic too - all told through references to contemporary popular culture.
For more on Laracuente, see this entry.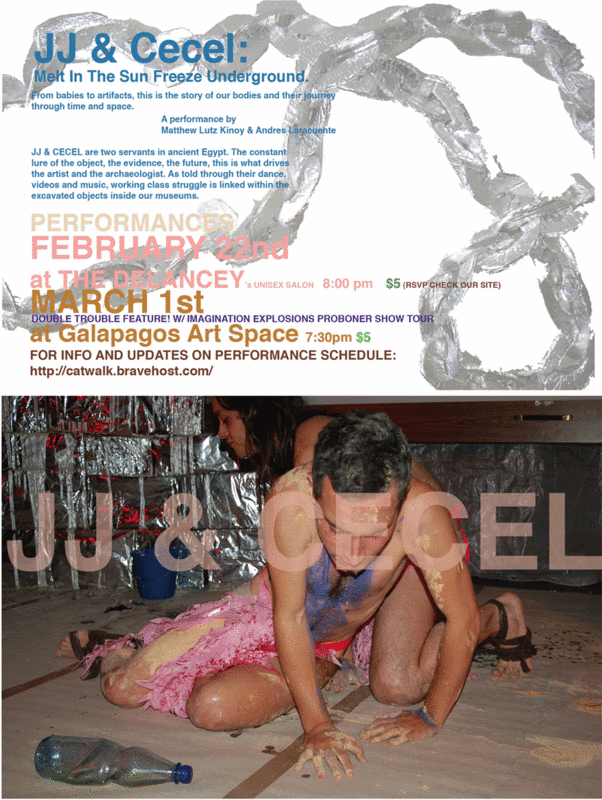 [poster image at the bottom from JJ & Cecel]