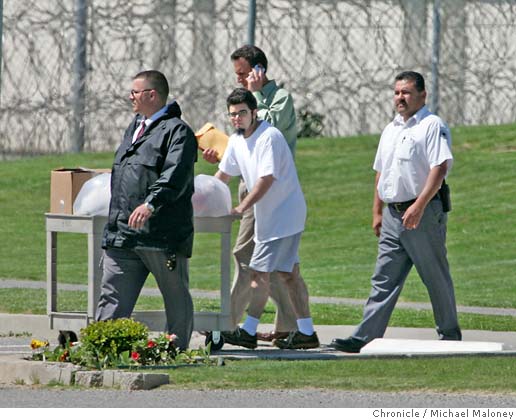 Flanked by two prison officials, Josh Wolf (center) pushes a cart full of his belongings (mostly books and letters) outside the gates of the Federal Correctional Institution in Dublin. Behind him is David Greene, one of his attorneys. Chronicle photo by Michael Maloney
UPDATE: Since this was posted a Wikipedia entry has been created for Josh Wolf; and Wolf himself has a blog
Blogger journalist Josh Wolf was freed yesterday.
But I'm not entirely sure what happened.
Wolf was in prison for refusing to comply with a federal subpoena. He was released from a California prison on Tuesday in what is described as a compromise struck with federal prosecutors. The court has the videotapes it wanted, but Wolf will not have to testify about the protest he documented or identify people visible in his reporter's documents. The entire tape coverage has now been made visible on his blog, to ensure that anyone in the world might see what the police will see.
Wolf had said all along that he was willing to show to the judge and to the US Attorney video the footage which the grand jury had asked for, but this is where it gets fuzzy for me: I had thought that up until now he was not willing to hand over physical custody of the tapes themselves (possibly explaining this month's "compromise"). The San Francisco Chronicle however reports that yesterday Wolf said that he offered to turn over his videos last November on the condition that he be excused from testifying, and prosecutors had turned him down.
In a press conference immediately following his release after more than seven months of incarceration he said that he absolutely will not testify about the protest he covered back in July 2005 (the subject of the federal case), even if ordered once again to do so, and that if he were unable to get a new subpoena removed, he would be prepared to return to prison to defend his Constitutional rights as a journalist.
He was asked by one reporter, why is this whole thing important? He answered that It's greatest importance lies in reinforcing the principle that journalists simply must not act as investigators for the government.
This is a large excerpt from a statement on Wolf's own site:
When I was subpoenaed in February of last year, I was not only ordered to provide my unedited footage, but to also submit to testimony and examination before the secretive grand jury. Although I feel that my unpublished material should be shielded from government demands, it was the testimony which I found to be the more egregious assault on my right and ethics as both a journalist and a citizen.

As there was nothing of a sensitive or confidential nature on my video outtakes, I had no reason to withhold their publication once I had exhausted all my legal appeals. When that point arrived I had already spent three months behind bars. I was advised by my legal team that publishing the video would not lead to my release; instead it would indicate to the court that my imprisonment was having a coercive effect even though it was not.

This hypothesis was verified when one of my attorney¬'s inquired whether the Assistant US Attorney would accept the footage in lieu of my testimony, he was told that the video alone would not suffice and that the US Attorney would accept nothing less than my full compliance with the demands of the subpoena. Things change.

When the judge came to realize the support for my cause was growing and that I was unlikely to waver anytime soon, he ordered both parties to meet with a magistrate judge in the hopes we could reach a solution amenable to everyone. After two rather strenuous sessions of mediation, we at last came to an agreement that not only leaves my ethics intact but actively serves the role of a free press in our so-called free society.
[image and caption from SFGate]