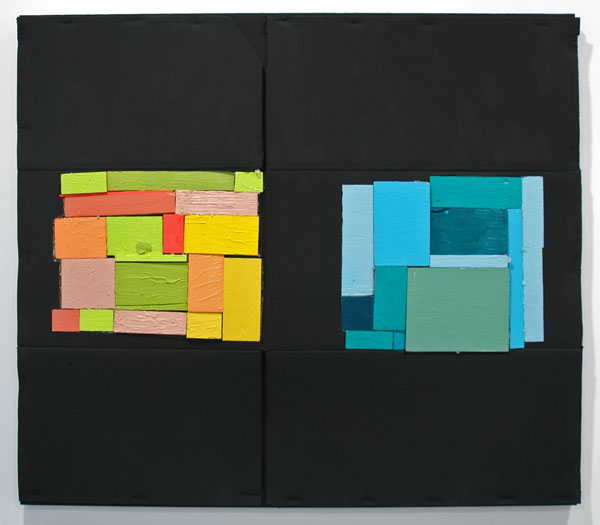 Peter Pezzimenti Untitled 2007 oil and latex on wood and cardboard 31" x 36" [installation view]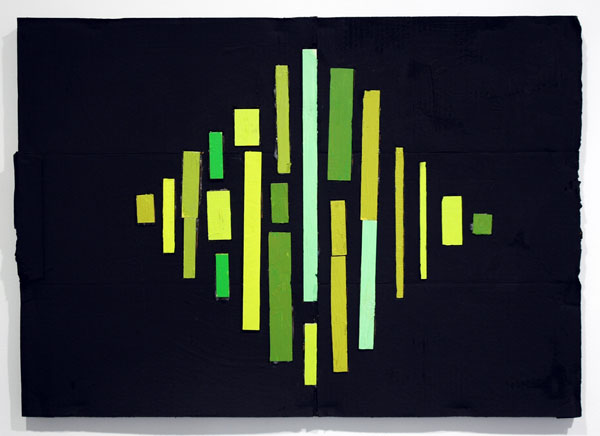 Peter Pezzimenti Untitled 2007 oil and latex on wood and cardboard 24" x 34" [installation view]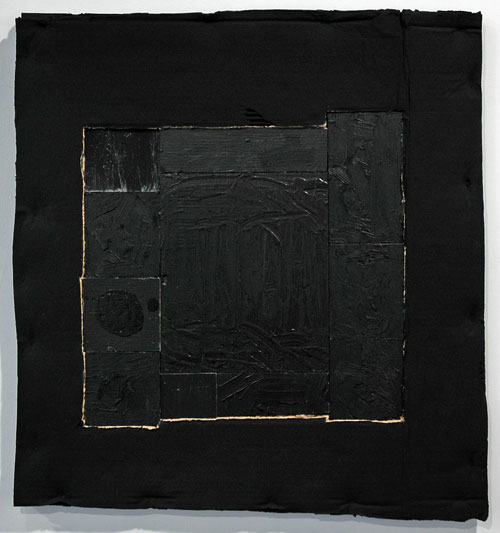 Peter Pezzimenti Untitled 2007 oil and latex on wood and cardboard 23.5" x 22.5" [installation view]
The sculptures by Peter Pezzimenti being shown at Monya Rowe through this Saturday are as much about painting as they are about space. In fact, I was slightly surprised when I went to the gallery site just now and saw the work described as "sculptures", even though I was there precisely because I was wondering about what noun I should use, and I wanted to know how the press release was categorizing these beautiful pieces.
Pezzimenti's assemblages of roughly-cut blocks of wood are totally alive inside their mat-black shrouds, even when the wooden shapes themselves have been painted black, as is the case with two of the fifteen being shown. Once they have engaged the viewer, they don't seem to want to leave the eye alone. I like both their boldness and their obvious playfulness (even today I'm not entirely weaned from an early and profound passion for building blocks).
Another disclosure, and, I confess, this one is a modest boast: Barry and I picked out a Pezzimenti work at the recent Momenta Art benefit. It was one of a number of works generously donated by Monya Rowe and the artists. This sculpture now hangs on (holds up, sits on or from?) one of our walls.