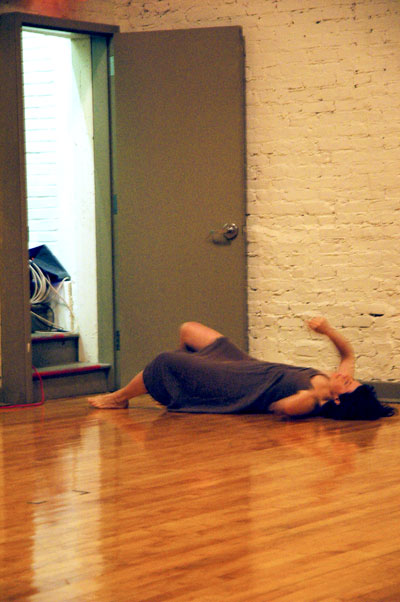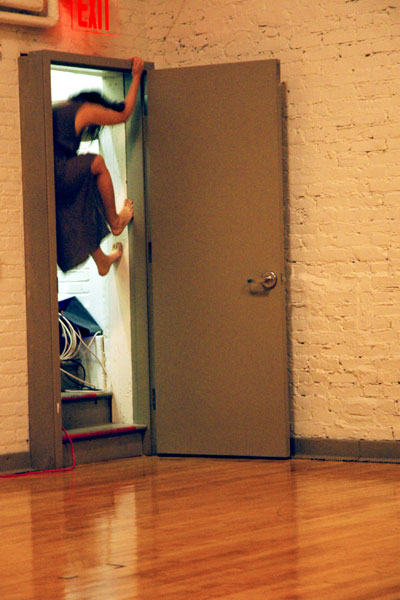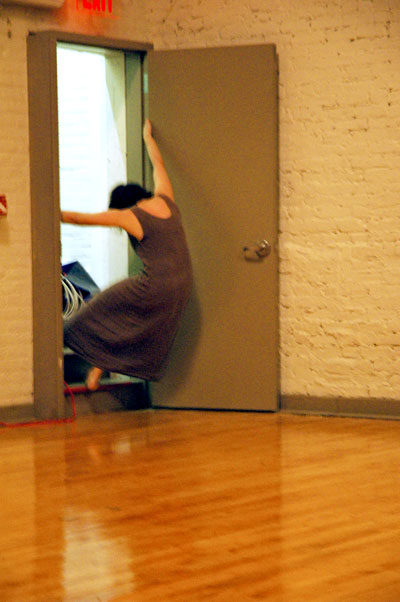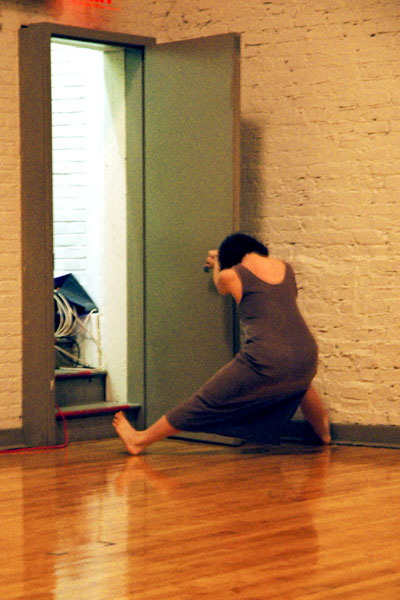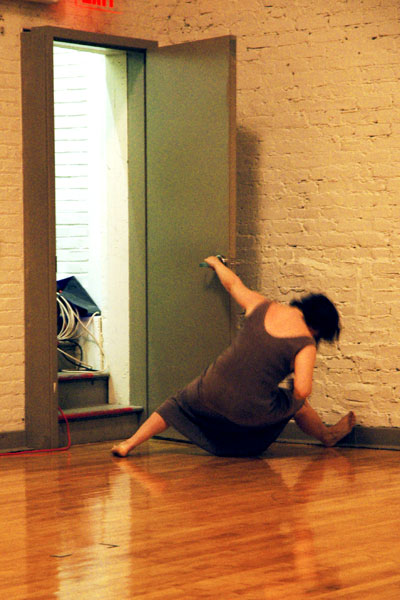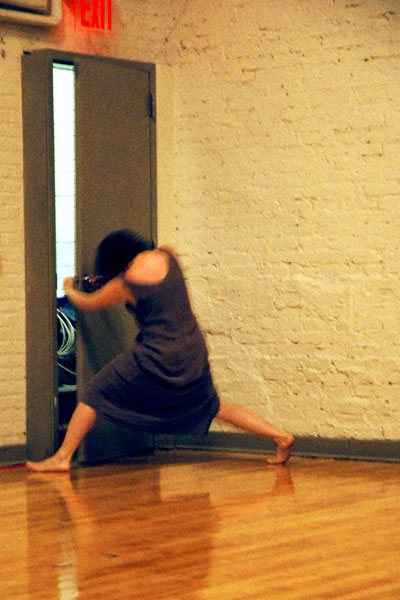 more than a door, and more than a sigh
We were seated (most of us) in a sometime basketball court in the basement of Judson Church. It was this past Tuesday, and it was another event of this spring's Movement Research Festival. This is what used to be called "experimental" performance. Once again there were no props and virtually no theater lights had been installed. There were no elaborate sound systems; instead, each of the three sets of composer/musicians brought whatever they might need. What we did have were some very-much-alive musical writers/performers and their very lively music, created for choreographers and dancers chosen by the artists responsible for the music. The conceit of the program itself was to be an experiment too, since it was a reversal of the conventional order in which the music is chosen by those who create the movement.
My favorite part of the evening was that which Nate Wooley and Newton Armstrong commissioned for the dancer Jennifer Mesch.
All the seats faced toward two unadorned white brick walls, and at their intersection on the far side of the gymnasium there was an unremarkable plain metal door. We had barely settled down after a short break and only some of us were looking in that direction when the door suddenly burst open with a loud and extended BLAAAAACK! - a fierce explosion of electrifying and other-worldly, animal-like "noise" At precisely that same moment Mesch was thrown/threw herself out of the opening onto the wooden floor.
The excitement almost never slackened during the five or ten minutes which followed, although it was quickly joined with our laughter. The terrific and terrifically-overwrought dancer was having a ferocious battle with that raucous door. It was never clear who was winning, or whether either might have come out on top, even after Mesch had returned through the opening for the last time and the door closed for good.
Only after the piece had ended and all three performers had emerged could we see that the wonderful monstrous sounds had been created by Wooley's trumpet and Armstrong's electronics, stationed on the stairs inside the landing. When it was all over I told Barry in my innocence that the work made me think of Pierre Henry's "Variations pour une porte et un soupir" [Variations for a Door and a Sigh]. At home last night we decided that in fact it was almost certainly intended as (less-than-concrète and solo) homage to Henry and Balanchine on the part of these three young artists. I'm playing our copy of the CD as I'm writing this today.