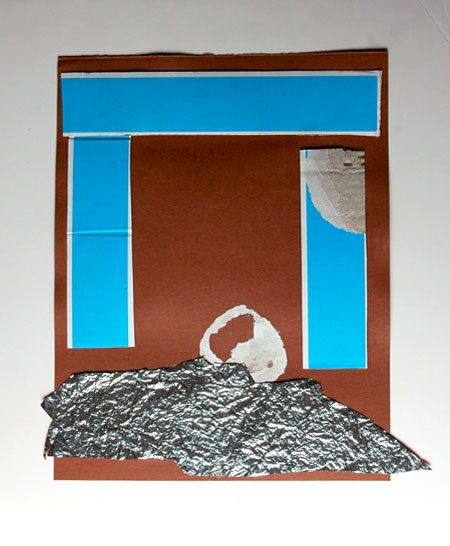 Ian Pedigo Untitled 2006 collage 13.25" x 13.25" [installation view]
Ours were the 33rd names (I had checked off the works on the list as they were picked) to be drawn at the Momenta Benefit Wednesday night, but Barry and I still managed to get our first pick, a choice made incredibly difficult, almost unnecessary, by the quality of the art which had been donated this year.
We've been big fans of Ian Pedigo's art (sculptures, collages and prints) for years, so we were very excited about finally being able to go home with one of his works.
Now we're going to have to decide how to show it on our walls, since with this particular piece the argument about whether to hang simply or protect with a fame is more critical than it is normally: The projecting points of the thin, color-backed sheet of aluminum foil at the bottom don't quite lie still.
The party was great fun, and we hope it turns into a huge success for Momenta. Sarah Meltzer's multi-level space was a dream location, and she and everyone else connected with the event should be thanked for their generosity.