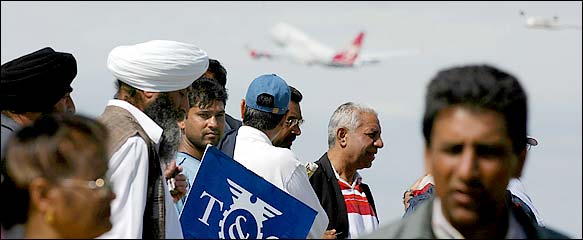 are they invisible?
Is the story about lost or missed flights and the attendant inconvenience for thousands of travellers, or is it about humiliating and discarding hundreds of low-paid Asian workers struggling in a racist society?
There have been headlines about the British Air interruptions everywhere in the mainstream media since last Wednesday, but you'd have to be a very determined newsy indeed if you wanted to know what started the disruption.
Most American accounts, when they included any information about the origin of the toubles, referred to "wildcat ground staff strikes" or some equally vague and pejorative description of the original offense.
I did some digging and I've come up with some facts which have been reported almost nowhere within the reach of most U.S. news consumers. They must have been considered too complex for us to understand, or, more likely, too destructive of the conventional wisdom of contemporary American society about the evils of labor unions. Besides, images of people (especially attractive blond people, and most especially young women) stranded at Heathrow are a better sell to corporate media advertisers than the background facts and images which might assault their Olympian indifference to the people in real markets.
In a front-page article in the NYTimes this morning, at least four days after the ["unofficial strike," in the brief, enigmatic description found in the piece's first lines] you would have to read through thirteen paragraphs and move onto page 4 before you would find anything about the origins of the disruption in London.
And in fact, the dispute at the heart of the walkout - over employment practices at Gate Gourmet, an independent catering firm based in the United States [my italics] that provides food for British Airways and other airlines - is only indirectly related to the airline.

The strike began when the catering firm abruptly fired about 670 of its Heathrow-based workers on Wednesday, causing the rest of the catering staff to walk out in a show of support. On Thursday, about 1,000 other airport workers - including baggage handlers, bus drivers, ramp workers and check-in staff, walked out, too, for an unofficial strike.
To give the paper credit, the larger image accompanying the article on the inside page is of a group of Gate Gourmet [ex-?] employees assembled at the airport.
But the context of the firings is missing, as is any attempt to describe why they might have been kicked out in the first place.
I went looking and turned up this story on thisismoney, a financial website belonging to Britain's [populist right-wing] Daily Mail/Evening Standard:
But what happened last Wednesday in a car park in Hounslow, near Heathrow, was everything that [Sir Rod Eddington, British Airways' departing chief executive] says he condemns. It was crude, unintelligent and ultimately totally counter-productive.

When Gate Gourmet sacked 650 workers - some of them pregnant - by bellowing through a megaphone in the car park [italics mine again], it was, he believes. the inevitable trigger for retaliation.

In the closeknit Asian community around Heathrow, sacking lowly paid workers in such humiliating terms was an outrage.

Many Gate Gourmet workers had relatives employed by BA - not surprising since the airline sold its catering division to Gate Gourmet in 1997 for £60m.

The illegal sympathy strike action by 1,000 BA staff had the understanding and sympathy of all BA workers, even at the highest level.

Eddington, whose wife is Asian, has diplomatically refused to comment on Gate Gourmet's management style. Publicly, he says: 'I would like to apologise unreservedly to our customers who have suffered because we have been dragged into a dispute not of our doing.'

But he has not hidden his anger to close friends at the 'stupidity' of Gate Gourmet. 'When you tackle change, you need to be clever and box clever,' he said. 'What happened out there was unintelligent and stupid,' he is alleged to have said, adding 'You can't treat people in this way. They were not fat cats for God's sake, they were hard-working lowly paid people.'

As for Gate Gourmet, it is satisfied it has not made any mistakes in its handling of the dispute, which started after an attempt to change working conditions and cut the workforce. A spokesman said it was haemorrhaging cash and unless there were agreed changes, the company would go into administration. As for sacking people by megaphone, he said: ' Sometimes the only way to communicate with the staff is by megaphone.'
Or whips?
[image by Andrew Stuart for the Associated Press via the NYTimes]