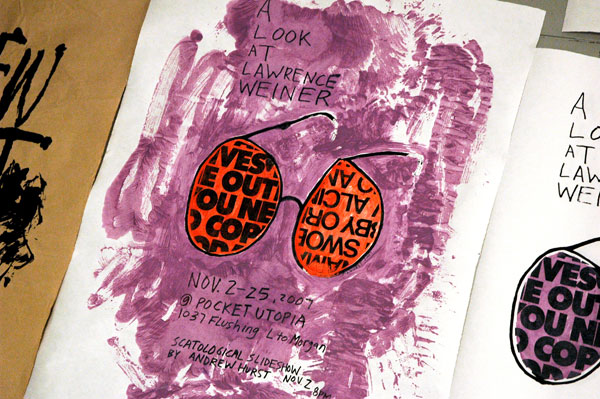 detail of a selection of Andrew Hurst's posters for the show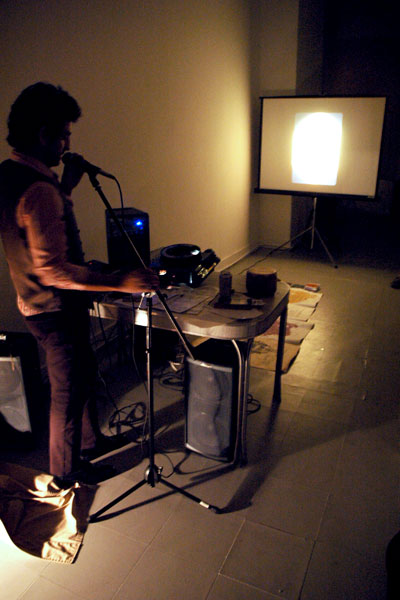 a moment during Hurst's sound and slide show performance, created specifically for the opening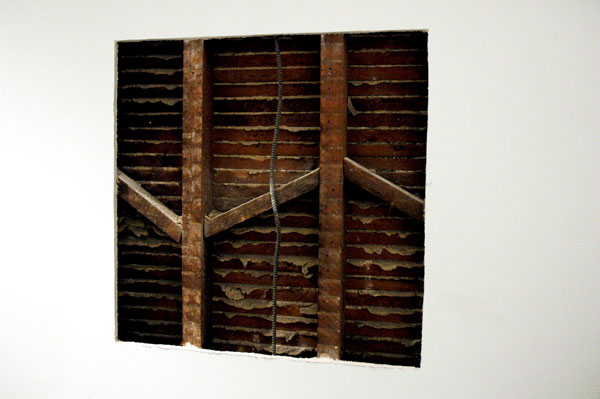 a re-creation of a piece referencing painting, which Weiner first exhibited in New York in 1968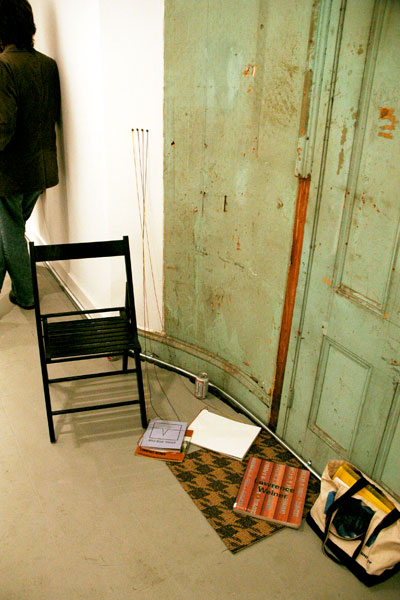 one of several reading room areas reserved for further study of Lawrence's work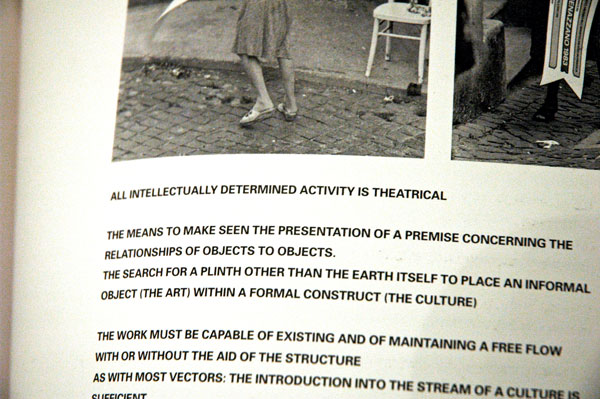 holding the camera in my right hand, I picked up a book with my left and it opened here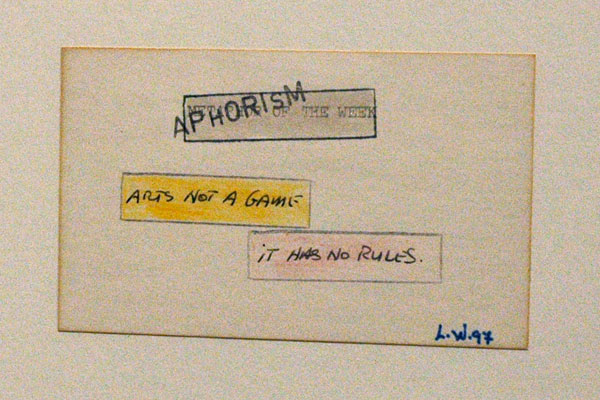 a Weiner text piece, reading, "Aphorism of the Week: Art is not a game, it has no rules" (1997), the medium being rubber stamp, with colored pencil, pen and paint on paper 4" x 6" [installation view]
"A Lawrence Weiner Salon" at Pocket Utopia may be one of the coolest shows in the city right now, not just because it was launched by Austin Thomas, and not because I still can't figure out what's going on in there. I've tripped over this modern icon for years, and the enigmatic promise of his work never disappoints. While I've always been convinced he's the real thing, I don't mind admitting that I should have some spent time in the several comfortable "Reading Rooms" scattered about the gallery this month.
All l dare offer here are some images snapped before the opening got too crowded, and this excerpt from the press release:
Pocket Utopia is pleased to organize an experimental salon of conceptual art's key figure Lawrence Weiner. The salon will feature a reading room, a re-creation ("A 36" x 36" Removal to the Lathing or Support Wall of Plaster or Wallboard From a Wall," 1968) and a text piece. Weiner has long pursued inquiries into language and art-making and posits a radical redefinition of the artist/viewer relationship and the very nature of the artwork. Here too, the venue or gallery and its relationship to the artist also gets redefined.
ADDENDUM: In related news from inside today's NYTimes, Roberta Smith (who almost never ventures into Brooklyn's high-yielding art fields these days) writes about the Weiner exhibition which just opened at the Whitney: "Be grateful, then, for Lawrence Weiner's mind-stretching 40-year retrospective at the Whitney Museum of American Art, which is respite, wake-up call and purification rite all in one. It should be required viewing for anyone interested in today's art, especially people who frequent contemporary art auctions." She ends her review:
Driven by the joy of language and quite a bit of humor, Mr. Weiner's ebullient work asks tough questions about who makes or owns art, where it can occur and how long it lasts. It reminds us that while art and money may have been inextricably entwined throughout most of history, art's real value is not measured in strings of zeros, high-priced materials or bravura skill, but in communication, experience, economy of means (the true beauty) and, yes, the inspired disturbance of all status quos.

It also affirms that art ultimately triggers some kind of transcendence that can only be completed by the viewer. Mr. Weiner has elevated Robert Rauschenberg's famous dictum - to the effect that "this is art if I say so" - to the more inclusive "this is art if you think so." His polymorphous efforts create situations in which such thoughts feel not only natural, they feel like our own.
Ooooh.
One more reason to head for hot and friendly Bushwick this week: Thomas has declared this Saturday afternoon "Social Saturday at Pocket Utopia". The gallery's two artists in residence [not named] will be "receiving" from 4 to 6 pm, and the curious are invited to meet and discuss their continuing work. The announcement also mentions something about a "beeramid".