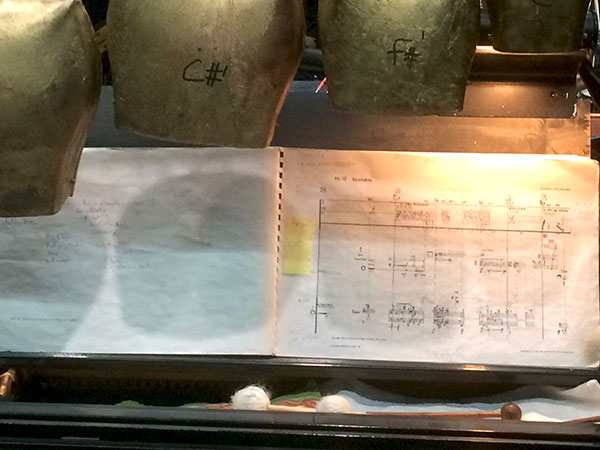 the first page of Stockhausen's piano score for 'Kontakte', seen seconds before 'Originale' began
I've uploaded 347 iphone images I had captured - with the enthusiastic encouragement of the curator, Nick Hallet - during the performance of Karlheinz Stockhausen's "Originale" on November 7 at The Kitchen. They are of varying quality, but I show virtually every picture I shot, including a few blanks, or near-blanks, because the bricolage suggests the beautiful energy of the evening, along with its [suggestion of] mayhem.
I virtually grew up listening to Stockhausen. His music was broadcast by Westdeutscher Rundfunk [WDR] in the 1950s, and that station's avant garde music programs (which included the music of Hans Werner Henze, among other composers considered late-20th-century giants today) were carried by the CBC, to which I listened in Detroit, via their Windsor, Ontario outlet across the river.
While I missed the first performance of this piece, Stockhausen's first venture into theater, in Köln, in 1962, and was living in Germany when "Originale" was produced at Judson Church. I wouldn't have missed this one for the world, and I felt deeply honored to be at The Kitchen on Friday, where I rewarded far beyond all my expectations. I was in heaven, and when it was over, I didn't want to leave.
It was a very funny, and a very happy evening. Because of that I think I have a much better understanding - and even more love - for the composer's cycle of seven operas, "Licht", than I had before being immersed within this fantastic musical theater piece, and I already loved those operas dearly.
Unfortunately I'm unable to credit everyone, but this is a list, in order of their appearance, of the performers who appear in the album, together with the official description of their roles:
Rachel Mason (Action Musician)
Stephen Drury (Pianist)
Stuart W. Gerber (Percussionist)
Raul de Nieves (Child)
Nao Bustamente (Performer I)
Justin Vivian Bond (Model)
Nick Hallett (Singer)
Alexandro Segade (Performer IV)
Ishmael Houston-Jones (Performer II)
Lucy Sexton (Performer V)
Niv Acosta (Performer III)
Zach Layton (Conductor)
Saori Tsukada (Newspaper Seller)
Narcissiter (Animal Handler)
[unidentified photographer as one of two disco balls]
Joan Jonas (Action Painter)
Eileen Myles (Poet)