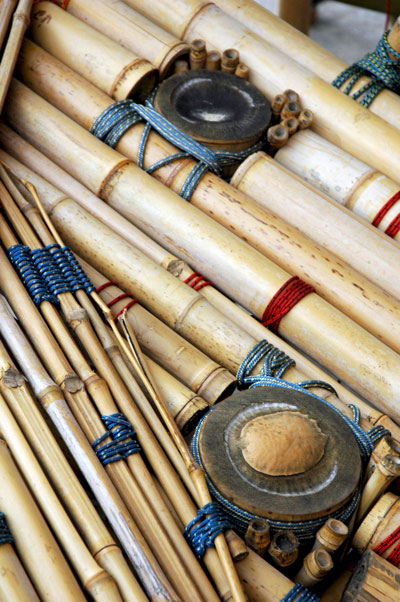 The last time we were on the roof of the Metropolitan Museum we were partially rained out, even if it was not quite raining. It was the press preview of the completed first stage of Brothers Mike and Doug Starn's extraordinary installation, "Big Bambú" (the Museum closes the beautiful bamboo gates if the surfaces are too wet). We were only able to admire the "forest" from below and, staring up, we could only imagine the experience of actually walking along its ascending, curving, elevated trails.
We were back for another try last Monday, four months later, also to see how much more had been completed by the artists and their team of rock climbers in the interim. Since it had been raining earlier in the morning our chances for getting any higher than we had in April didn't look good, but we were eager to chance it (it was another press preview and we would be able to record the work with our cameras).
We did check roof conditions with the Communications Department before we left, and it sounded promising. By the time we arrived at two the rain had long stopped and a favorable zephyr had done much to dry the reeds. The rewards of our gentle climb were those of being able to see the beauties of the work's more functional forms close up, and the thrill of knowing we were walking where no one would have been able to before this spring, and would not be able to again after this fall.
Once up in the air, born by the squeaky bamboo and its nylon bindings, seduced by the rhythms and the patterns of the paths, and listening to the sound of birds on a misty afternoon, I found it very difficult to come back down. Only the sight of two hawks circling high above, visible through a clearing of the tapering verticals, could remind me of my customary attachment to the earth.
We slowly retraced our steps to the roof surface, and still we lingered.
Oh, by the way, "Big Bambú" is big, and getting still bigger: It's probably about the size of the Temple of Dendur downstairs. Maybe bigger.