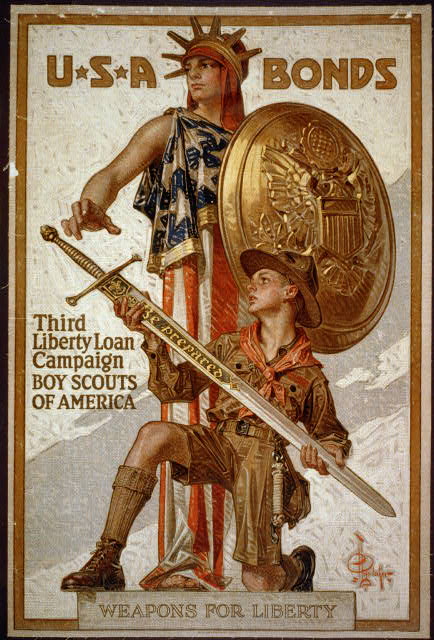 1917 poster* by J.C. Leyendecker, successful, closeted [homo] designed to sell war bonds
Although I took huge delight yesterday in Rev. Joseph Lowery's contribution, because of his own history and the fact that its grace transcended religion, my experience of the joy of yesterday's inauguration of Barack Obama was marred by the number of genuine sour notes, all related, that piled up all day long and even into the night at the inaugural balls: Watching the glorious events of the day being soaked in all that god talk made me very, very uncomfortable. You probably know what I'm taking about.
By the way, after all the uproar over Obama giving the nod to Rick Warren's to deliver that, whatyamacallit, "invocation", I thought it was some "revelation" to hear the fat gentleman finally speak yesterday. As he rambled on like a Sunday school teenager in "church-speak" mode, Barry and I looked at each other, dumbfounded. Just then Barry saw on his feed that at 11:49 EST justinph had tweeted:
Wow, Rick Warren prays like shit.
I say, amen.
And I want to interrupt myself here with a point of information: In spite of what we have been led to believe, and contrary to the [Justice Roberts-flubbed] administration of the oath of office we witnessed yesterday, the Constitution includes a precisely-worded, prescribed text which absolutely does not include the phrase, "so help me god". Also, our founders made it very clear that you don't have to swear an oath, but merely affirm. [Article II, Section 1.]
As a part of all mankind I share the joy of people of every color in the triumph of Barack Husein Obama, but, as an American who knows and serves no god, today I probably feel more excluded than ever before. A black man can become President; we had already discovered that we can have and probably soon will have a woman as President; we can expect some day to find that it isn't necessary to be a Christian to become President; if absolutely nobody else shows up at the hustings, we might eventually elect a queer; The office is now open to every citizen [if natural-born, at least 35 years of age, and 14 years a resident in the U.S.], yet from where I'm standing it looks pretty certain that, if faking belief isn't an option, an atheist can never become President of these United States. She or he is more likely to be stoned in the public square.
When I look at the historic talent pool represented by that distinguished class of skeptics, I find that truth to be quite tragic, and I'm very sad for all of us.
*
When I first saw this image, on the About.com site, the medallion at the bottom had been altered to read "For a Christian America", and the sword was edited to bear the inscription, "Bigotry, Discrimination". I put at the top of this post before I realized that as originally published and as shown here the picture doesn't have anything overtly connected to a deity, but I've decided to keep it at the top, for the Boy Scouts of America's connection to god, country and straight-acting-boys - and men.
[image, in which the artist's male lover {they were to live together 48 years} modeled for "Liberty", from Library of Congress]