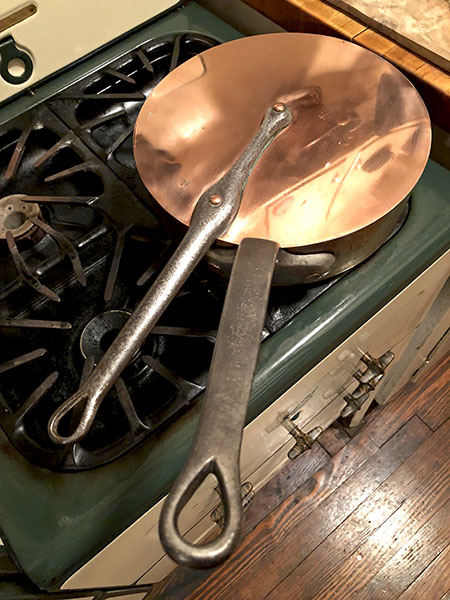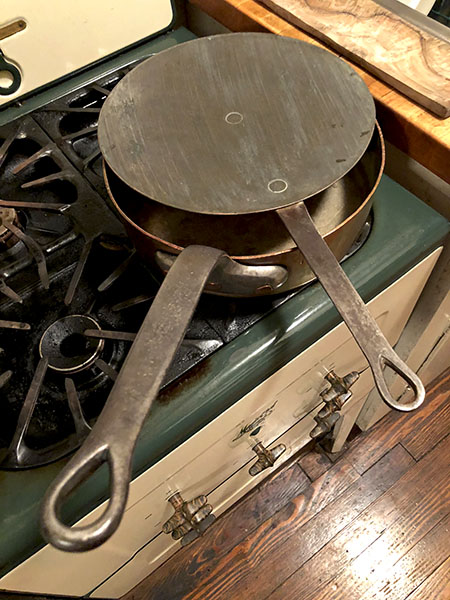 I love my pot.
The large, antique handmade tin-lined copper pot came from a French seller over a year ago, and it quickly became one of my favorite cooking tools.
The lid came on Saturday.
I've been looking for a proper copper cover, a 'universal-style' flat lid, ever since it arrived, and yesterday 'the ship came in' again, so to speak. It took a long time to find one of its size, but when I finally did, it was a perfect match, a perfect fit as a cover, and it looked like it could have been fashioned by the same maker, a long time ago. It's also in perfect shape, top, bottom, and wrought iron handle.
In addition, as a universal lid, meaning it's flat and doesn't have to correspond with the exact diameter of the vessel, I can use it on at least five different pots and pans that I already have, made of various materials. It hangs on an old square-cut nail on the kitchen wall, so it will always be immediately accessible.
The 27cm (10.5 inch) high-sided tin-lined copper pot in the picture weighs 8 pounds, the lid 2 pounds. Heavy is good in the pots and pans world.
Along with the heavy canvas bags of groceries I regularly lug home from the Union Square Greenmarket, this pot and others I use, including some that have been with me for many decades, whether steel, copper, cast iron, or enameled cast iron (all materials outweighing the vintage clear Pyrex pots), constitute my upper body exercise routine.
While these copper treasures don't come cheaply, the price new of anything similar to what I have acquired 'used' is totally off the chart, and the product is likely to be inferior, even aside from considerations of aesthetics and, well, soul.
I've always been very lucky in the used kitchen utensil market, as I have been in the used anything market.
My ultimate excuse for an indulgence in this area (I mean, nobody needs copper pots) is the happiness cooking brings to both of us, and others, when we can share, and the thought of how much we save by not depending on commercial kitchens.
Still, there are good arguments for these things.

NOTE: I don't polish my copper pans; I use them (although I used to occasionally polish the new copper tubs in my 1760 Providence house; I also used them)