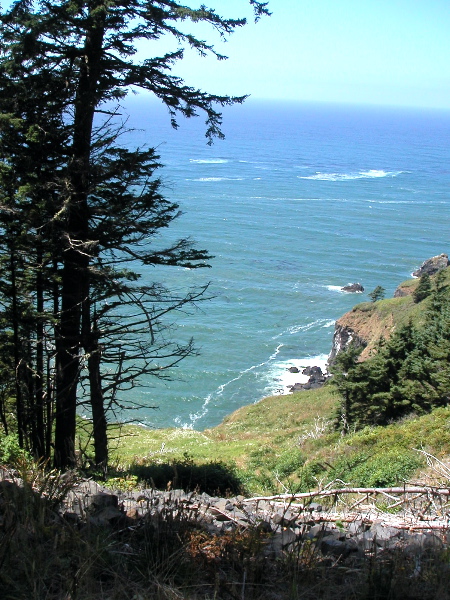 on the Oregon coast yesterday afternoon, just north of Otter Rock
We made it to the Pacific, but when we got there everbody was gone.
Actually, Barry and I are staying in Portland this week, where he's attending a tech conference, and after that we'll be in Los Angeles for a week. Yesterday was free, so we drove to the coast, much of the time through an almost abandoned wilderness, to stick our toes in the Pacific.
It's a long drive for one day, so while we didn't have much time to explore, the town of Newport looked like it would worth more than a detour.
We had a great lunch at the Chowder Bowl above Nye Beach: tiny shrimp in a thick clam chowder, followed by oysters and chips (clams and chips for Barry), the crustaceans all from local waters. Yes, they had good beer and wine, but most of the families sitting around us took a pass on the grownup stuff and finished quickly; they must have found the calories which fed their very ample American forms elsewise.
Another thought from a New York innocent abroad: This part of the world is very middle class and white, very clean and very civic. Why is it that away from the East Coast this country seems to be able to provide clean restrooms almost everywhere and such essentials as well-cared for parks or other public amenities, while in the Eastern cities you have to be a sneak or a sleuth to find a bathroom, and even a successful search will rarely uncover a clean, decent-sized facility? And in so far as parks are concerned (at least in New York City), unless you can get corporations to sponsor them, including their maintenance, your neighborhood is just out of luck.
As a nation are we able to provide for the public only if that public is perceived to be composed of a homogenous class and ethnicity?
Of course there are some parts of America which do have homogeneity, but still don't think anything should be provided to the public. If you're from such places, or visited them, you know where they are. Those are the areas from which most decent people flee as soon as they can - sometimes ending up in Oregon or New York.