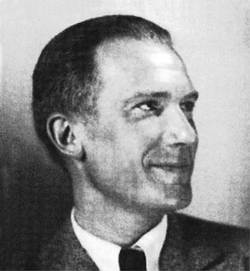 Leo Borchard (b. March 31, 1899, Moscow - d. August 23, 1945, Berlin)
On this day in 1945 the conductor Leo Borchard was killed by an American sentry in occupied Berlin while the musician was being driven home after conducting a concert of the Berlin Philharmonic. His British driver had misinterpreted the sentry's hand signal to stop.*
Three months earlier the artist had been appointed to replace the somewhat-compromised, and now-exiled Wilhelm Fürtwangler as musical director of the orchestra. At the time of Borchard's death he had conducted 22 hugely-welcome and greatly-acclaimed concerts, wining the affections of the traumatized population of the shattered city.
Born in Moscow to an ethnic German family in 1899, Borchard grew up in St. Petersburg, studying there before moving to Berlin, after the Russian Revolution, in 1920. In the German capital he was enjoying an increasingly important conducting career, which included promoting the music of young composers, when he was declared undesirable by the Nazi regime in 1935, for protecting Jewish musicians and for being "politically unreliable".
He remained in the city, hiding his identity, and gave music lessons in his apartment. He also became a member of the German resistance, and, along with his stunningly-beautiful partner, the author Ruth Andreas-Friedrich, formed the humanitarian resistance group, Onkel Emil ("Onkel Emil" was their warning signal), a secret network which committed sabotage, destroyed Nazi propaganda materials and broadcast their own leaflets - and those of the tragic "White Rose". They expertly created fake medical certificates which would enable the bearer to avoid military service. They rescued war resisters, political enemies of the regime and, above all, Jews, finding hiding places, procuring food, supplying false identity cards, and supporting families which would otherwise be without resources or protection..
I first heard about Borchard years ago while reading the memoirs of various members of the Widerstand, some of whom referred to him, always with love and admiration - for both the man and his art. At the time I could find very little information about either. Although even now very little has turned up, there are a precious few recordings, and at least one video.
I've also learned about the two memoirs** written by Andreas-Friedrich, one about her experience during the war, the other about Berlin in the years immediately following. I expect to read them both.
*
Borchard wasn't the only victim of American security forces in Europe that year: Anton Webern was killed three weeks later in Mittersill, near Salzburg, on September 15th. The composer had gone there from Vienna to be safe, but that night, just before the military curfew, when he stepped outside his house in order to smoke a cigar, he was shot by an American Army soldier, in circumstances which are not really clear to this day..
**
"Berlin Underground, 1938-1945", and "Battleground Berlin: Diaries 1945-1948"
[image from Discogs]