More About James Wagner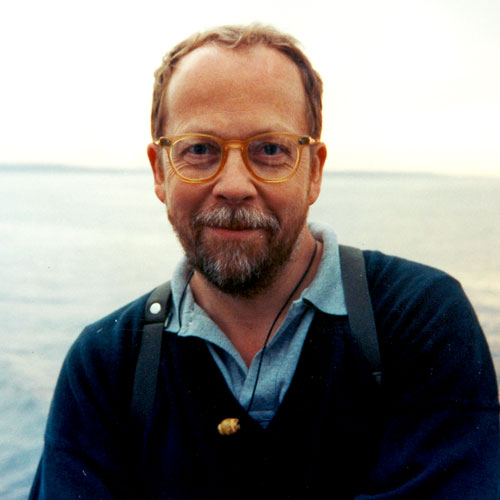 James Wagner lives in New York where he writes his blog, jameswagner.com. Begun early in 2002 as a successor to a regular series of post-9/11 political emails sent to activist friends, his website is concerned today with the arts, emphasizing the visual arts; progressive politics, including queer and gender issues; his own art photography; food; and travel. All of these are presented with something of a world view, but one centered on a New York experience.
He sees a formidable amount of art, and he likes sharing the best of what he sees, most broadly on his popular web site. Wagner has also regularly been a part of portfolio reviews and forums and panel discussions focusing on art criticism, internet issues as they relate to the work of artists, and the collecting of art. He has been invited by teachers to speak with groups of students on these same subjects. His enthusiasms have been solicited by both old and new media sites for interviews, and he has curated gallery and online exhibitions.
Both he and his partner and collaborator Barry Hoggard have served as members of boards attached to different non-profit institutions. They have been invited to advise non-profit visual and performing arts institutions in the areas of their own separate or combined experiences.
Along with his partner, Wagner has for many years been a patron (zealous fan, enthusiastic collector and general supporter) of visual art, in virtually every medium, by artists who are just beginning to be seen.
Wagner is the editor, along with Hoggard, of the arts calendar ArtCal.
Originally from a proud, moderately comfortable and loving, weirdly-wholesome and markedly-prolific family anchored for more than a century and a half in the American Midwest (Wisconsin dairyland) in whose bosom he thrived. His parents were educated and good, but he knew from the time he was very young that he was more than a bit of a misfit on several counts and that he would have to live on one of the coasts as soon as he could manage it. He probably didn't realize right away that those two things were related.
He has been totally queer since the early 1940s.
Wagner was born on the cusp of the 1940s. He likes to say it was still the 30s. He grew up in Detroit, before almost all the white people with money left for the suburbs, when it was one of the proudest cities in the country, and one of the richest. He loved his beautiful and very friendly neighborhood (think mature plantings, elm trees arching over the streets, kind and friendly neighbors, screened porches with cushioned rockers), where he rode his bike everywhere, except on the days he took the bus to the visit the exotic wonders downtown. During the first U.S. election he remembers with any clarity he peddled around the neighborhood asking people he knew whether they had voted and adding that his parents had voted for Dewey (only to be hugely chagrined later when his Mother told him about the secrecy of the ballot). He had a subscription to the Detroit Symphony Orchestra at the age of ten and he and his best friend cranked out a bi-fold newspaper on a toy printer during the early months of the Korean War (he was especially proud of his neat diagrams of the moving battle line). He loved Sunday family drives in the big Buick and the long summer motor trips. He had always had a camera with him, but at some time in the mid-60s he decided that cameras got in the way of real involvement or observation. He's definitely changed his mind about that.
Wagner's extended school experience (lengthy because of a thirst for knowledge, the need to avoid the Nam draft, and general indecision about a career) was entirely in the liberal arts, but without any formal fine arts education. After sixteen years of Catholic institutions, including an Augustinian day prep school (Austin Prep, which has now almost totally disappeared into the mists of time) and four years with the Jesuits (John Carroll University) concentrating on history, philosophy, German and the University newspaper, he went on to a full postgraduate year at the University of Wisconsin Madison, where he converted to atheism within days. There was a long idyll at a German university (Munich) in the early 60's which opened his eyes and heart dramatically and then a return to the U.S. and the real, now legendary 60s. He found shelter and stimulation of all kinds in New England, mostly Rhode Island, for twenty years. Brown University figured very large in the first five. He fell in love a lot.
His post-academic working career was taken up more with the pecuniary exchanges of what were essentially Wall Street firms in Providence and then Boston (alas, he only counted and managed others' sums). There were neither abstract nor aesthetic exercises involved in the work. He found that imagination was neither encouraged nor rewarded in these office environments, so he mostly sought out friends and stimulation elsewhere - fortunately with great success. In 1985 he moved to New York, where he had wanted to move years before he became distracted by the charms of Rhode Island and the demands (and financial security) of those very straight jobs. Although now in Manhattan, he still found himself in the midst of an extremely conservative environment while at work. When not at the office he was able to take advantage of the heady delights of the city's cultural riches, especially experimental performance and music.
At the same time he began a period of intense political activism, notably as a member of ACT UP, Queer Nation and WHAM!. He participated in protests for all three organizations, and was fiercely dedicated to the planning and execution, with a smaller, independent cell of activists, of smaller zaps dramatizing issues important to their communities and beyond. He's been arrested for civil disobedience more than once. His employers thought he was weird, but having never learned of these activities, they didn't know the full extent of his unorthodoxy.
Today he describes himself as an American dissident.
The few dramatic mortal threats to the continuation of his time on earth Wagner describes as blips, for himself if not always so much for those around him. There was an auto accident when he was sixteen, which he barely survived but which ended the lives of two of his best friends. He contracted HIV probably some time in the 1970s, but has had no opportunistic infections and shows no sign of the ravages of either the disease or its treatments. In 2004 he was diagnosed with prostate cancer and treated, aggressively but successfully; the cancer remains undetectable today. He remains in all respects what is conventionally described as "very healthy".
By further good fortune he has now been retired for a number of years. Although sustained with only rather modest means, he continues to be excited and delighted by the riches and wonders of a world open to him because of his curiosity and his education. His years in the academic world had somehow neglected to give him anything approaching a specialty or trade suitable to a practical modern world. Although he was a essentially a graduate-school drop out, he left that world with an education which continues today, where an environment of virtually perfect academic freedom and the absence of any conventional focus allows him to say what he wants to and ensures that he is kept very busy. He's doing what he has always done, but he's now able to do more of it, with fewer restraints, and among people who share his curiosity..
He met his partner Barry through mutual good friends in 1991. They are all very happy about that; Wagner is really happy about it.
Above all else that he loves, there is beauty and virtue (which, as with the ancient Greeks, he continues to conflate despite so much evidence seemingly to the contrary).
His personal design aesthetic was modernism when he was very young, of the kind which was later called minimalism. When he was twelve and the face of his first (very modern) watch was damaged by water he designed its replacement to betray only the thinest black lines and no numbers on each of the hours. Much later, when he had to furnish a home of his own for the first time and as a scholarship graduate student certainly couldn't afford great new design, he filled his studio apartment on Benefit Street with wooden stuff he had pulled out of the Salvation Army store in one visit. He painted each furniture grouping a different primary color, hoping to make them look modern, perhaps even minimal. Only some years after did he realize that in the process he had succeeded in debasing some 19th-century chairs, a rare small bentwood table and a heavy round oak table top. New England quickly taught him the value of good design from another century than his own, and its function, but he didn't really have an appreciation for "Victorian" taste and practices until he had left Providence and the minimal period furniture he had collected for his little 1760 house/machine. Today he lives in the midst of an eclectic assemblage of things gathered from almost every period and intended originally for almost every level of formality. He thinks he still prefers minimalism, but his complex and spreading habits would seem to preclude such an environment and friends who have been to his cluttered apartment would probably laugh if he told them about this penchant.
He reads a lot. The book cases and stacks which fight it out with the art for wall space in the apartment he shares with Hoggard are some evidence of that. He thinks he doesn't spend enough time with real books lately, and then he realizes he's actually reading a lot of them at once, mostly non-fiction these days. Beyond the fine arts, his interests include history and geography, architecture both new and old, music, food and cooking, travel (ideally by train, ship or dirigible), and the enjoyment of both the natural countryside (even gently altered) and his own urban garden, but none of these could really be described as merely "on the side".
Music is very important to him, as it appears to be to most people, but while most will say they like music, Wagner likes the music most people don't. He has amassed thousands of recordings over many years, in at least four formats. He used to think he had a ton of LP's, until the music which interests him started coming out on CD's also, and now the records are in a closet keeping company with an old broken turntable. There's no proper storage for the discs he and Hoggard already have, but he won't say that he doesn't need more.
He really likes to cook (the serendipity and the bounty of the greenmarket has become a delight for both of them), and this enthusiasm is becoming even more important in his life, or at least in his schedule. This surprises him, but he suspects he knows why that might be the case.