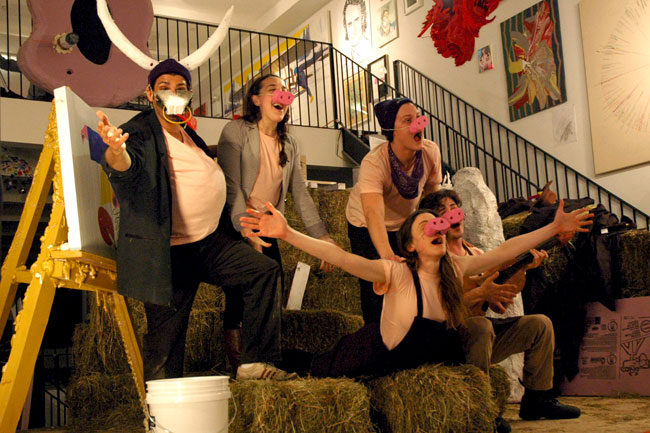 graduating Piggy Artists celebrate the breakthrough which made the Brucennial possible [from left to right: Ian Lassiter, Liz Olanoff, Joe Kay, Maria Dizzia, Matt Nasser]
Last night the earnest, tuneful sounds of the Bruce High Quality Foundation's production of Animal Farm: A Musical further enlivened the halls of an already almost-impossibly-vigorous second edition of the arts collective's Brucennial, first visited upon the unsuspecting city in 2010.
The fable, based only very loosely on Orwell's allegorical novella, describes the redemptive journey of "the graduating Piggy Artists of the class of 2012" (from the BHQF site) after their confrontation with their school's alleged penury; its chicken trustees' incompetence, cowardice, and stinginess, and their move toward charging tuition for the first time after 150 years; its greedy dog financial-advisors, and the dispersal, for a time, of the collective creative energy of the porcine members of the class itself.
While somewhere in BHQF materials there's a reference to the group's own institution of higher arts learning, the Bruce High Quality Foundation University, the real story of the high-spirited lets-put-on-a-show production is that of The Cooper Union for the Advancement of Science and Art and the handful(s) of former Cooper students which founded the collective in 2004.
Following the conclusion of the show one of the Bruce's made a very straight appeal to members of the audience, asking them to help ensure that the college on Cooper Square not betray its legacy as a pure meritocracy: It was founded by the self-made industrialist Peter Cooper to give young people the opportunity of the good education he never had, a tuition-free school whose facilities were open to anyone who applied.
We were asked to go to freecooperunion.com for more information, and to spread its words. Those of the Bruce High Quality Foundation University anthem, printed inside Sunday's handsome "Playbill", offer an inspiration:



Every Pig is an artist.

No pig flies alone.

Teaching others is our greatest work.

We can't do it on our own.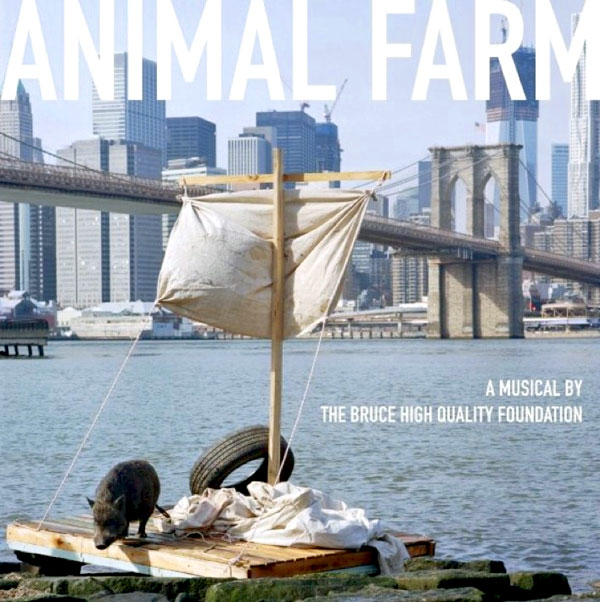 [second image, the program cover, from GalleristNY]