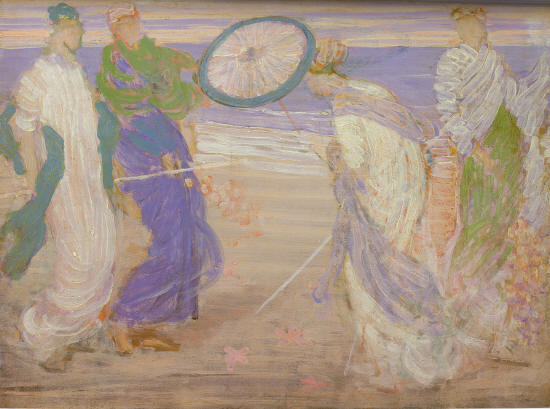 James Abbott McNeill Whistler Symphony in Blue and Pink (ca. 1870)
Disclaimer: I'm posting this even though I didn't attend either of the two New York Philharmonic performances reviewed by Justin Davidson in today's Newsday. I should be a natural and enthusiastic patron of an institution which can bring alive an historical musical heritage which means a great deal to me and which continues to inspire exciting composers and performers in our present century. In fact however, for reasons described in Davidson's critique, I've stayed away for a while, and I don't expect to attend any Philharmonic performances this season.
While the orchestra and I have had a history together, the relationship has been suffering for years and now we may not share any future whatsoever.
I'm showing my frustration now because I've just discovered that someone has outdone the sometimes shockingly-outspoken critic from the NYTimes, Anthony Tommasini, in condemning what has become of our hometown orchestra.
Davidson's review of the orchestra's first two concert programs of the season includes phrases like, "doing business like it has always been done," "executing that chestnut," "arid mannerisms" and "a cannonade of defiant conservatism," but he finally just has to let it all out:
These comments have a ritualistic quality, I know, but if critics have been making them for decades, it's because the Philharmonic has consistently refused to embody the innovative, restless and constantly self-inventing spirit of its hometown. This might be a tolerable failing if the artistic leadership made up in traditionalist thrills what it lacks in enterprise. But Maazel is a taxidermist among conductors: In his hands, great pieces become lifelike rather than alive.
Although we know Tommasini has little love for Maazel, the orchestra's conservative programing and the neanderthals on its Board, in his own
review
of the opening night concert, compared to his
Newsday
colleague, he sounds almost like a votary, of both Maazel and the players who reportedly adore their music director. Has he finally been called on the carpet by representatives of an establishment he has offended?
Earlier this year the management team of the New York Philharmonic extended Maazel's contract until 2009, possibly sealing the fate of what has become little more that a dusty museum maintained for shrinking numbers of a musical Old Guard and the few members of a new monied class who seek annointment with "Culture" (but nothing not already hallowed, you understand).

Obviously the only relationship between the text of this post and the picture at the top is the painting's title, but it's beauty is also a palliative in this context. Whistler was once on the edge, but while we can still enjoy his art, here even patrons of the Philharmonic have moved on. Why is it so hard when it comes to the pleasures of Euterpe?
[image, in the collection of the Freer Gallery, from Simon Fraser University]