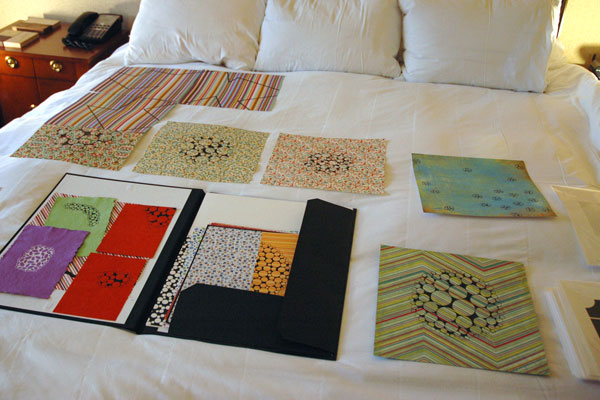 scattering the drawings - as much fun as the Gramercy - showing, among other pieces, Line IV 2006 ink on archival scrapbook paper 24" x 24" on the top left, Bulb I 2006 ink on archival paper 12" x 12" on the lower right, and Float 2006 ink on archival scrapbook paper 12" x 12" just above it [installation view]
It involved a lot of imagination, a lot of work and a certain amount of risk, but one excellent, under-exposed D.C. area artist has managed to arrange for a one-man show in New York this week all on his own.
J.T. Kirkland knew well in advance that his job would take him to Manhattan all this week, but he decided he wasn't going to limit his off-hour activities to trips to Chelsea galleries looking at other artists' work. Kirkland drove to New York with a selection of all but his largest wall sculptures packed in his car and he has installed them, along with some stunning drawings and prints, inside his downtown hotel room. The week before this he had sent invitations to friends, collectors, curators and gallerists and many have made the trip over the last several evenings.
Kirkland's "gallery" reminded me of the fun and reward of visits to the early Gramercy Art Fairs, when dozens of the old hotel's guest rooms were temporarily and magically transformed into something like so many "trunk shows" showing some pretty adventurous art. Sometimes you might quickly move on after a peek inside a room, but we both would have made this room a "stayer".
The New York world of the visual arts can always use more of this kind of infectious delight in a creativity unfettered by the conventional institutional structures (which in the long run couldn't possibly survive on their own without the continuous challenge of the excluded).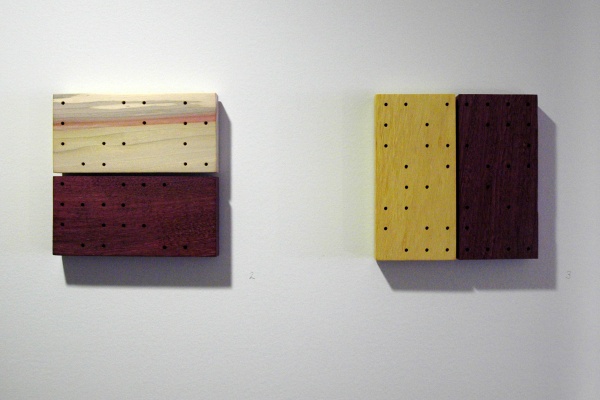 two small sculptures installed on the hotel room wall: Spalted Poplar, Purpleheart 2006 wood 6" x 6" and Purpleheart, Yellowheart 2006 6" x 6" [installation view]
I was already interested in the artist's work, having found images on line last year. When Barry and I later managed to come home with a small piece he had donated to the recent Visual Aids "Postcards From the Edge" benefit we found we were hooked on these wonderful wooden devices. We had also seen the equally conceptual, minimalist drawings he shows on his site, but I wasn't prepared for the extravagant beauty of the real thing. And the prints are really wonderful!
We had a great time this afternoon, not least for the good converstation. Oh yes, Kirkland also has a blog.

TO SEE THE WORK:
I cannot reveal the details of the hotel location here, but if anyone reading this is interested in a visit tonight on the closing day of the show, and is able to stop by there between 7:30 and 9:30, please email Kirkland at [email protected]