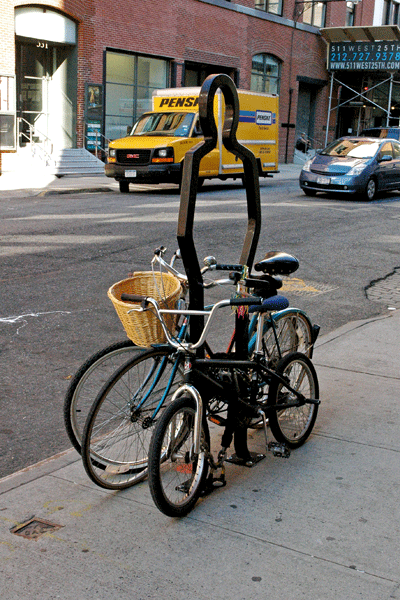 hanging out with the man in Chelsea, but only for a bit
We still don't have our Second Avenue subway or public toilets, despite promises going back decades, or almost a century in the case of the subway, but it didn't take long to see the colorful and varied site-specific shapes of David Byrne's bike racks pop up around the city. Hooray for David - and for all bikes and bikers! Now, if we hope to save the streets for people, we just have to figure out how to secure these wonderful machines from thieves.
I saw this particular grouping last Friday on West 25th Street, in the midst of the Chelsea gallery neighborhood. I like the friendly or family mix of cute bikes.
Wait, wait! I wrote those two paragraphs before I had looked for a link to use with this post and only just now did I see in the NYTimes story that the racks will only be installed for 364 days. That's bunk!

The nine racks will be removed about 11 months from now; they were made of durable materials but are intended as temporary public art, not a permanent installation. (A temporary art project cannot remain on public land indefinitely without approval by the city's Public Design Commission.) Mr. Byrne arranged to have the racks fabricated and hopes to have the chance to sell them, eventually, as works of art.
Once again it seems that in New York money "trumps" (choice of word is deliberate) both art and the public good.