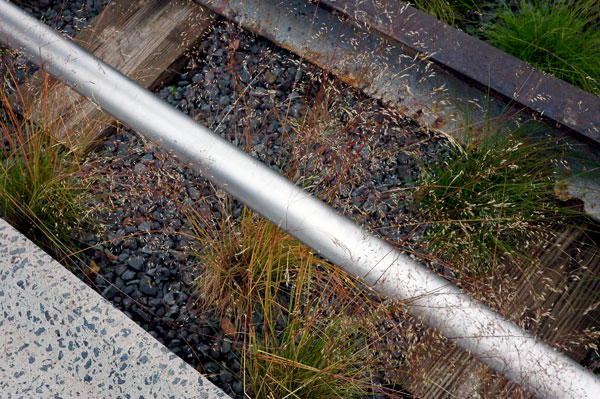 low down on the High Line
Barry and I visited the newly-opened first stretch of the High Line last Thursday, in spite of a light mist which probably reduced the crowds of the curious that afternoon. The experience was more lovely than I had dared to expect. My favorite things are its physical position (three stories above the street snaking around and through some other interesting structures, often within view of the Hudson), the handsome naturalistic plantings, and the fact that it's only a few blocks from our apartment.
It's a really, really wonderful thing. Its delights start even before you climb (or "elevate") to the height of the old freight railway, with the breathtaking sight of smiling, happy people out in the open air beyond an old railing thirty feet above you, and it never stops. Actually, I think we're both still high a week later, just thinking about it.
But I do have quibbles about some of the fancy details. I think that certain features introduced by the design team, led by landscape architecture and urban design firm James Corner Field Operations with architecture firm Diller Scofidio + Renfro, seem a bit too fussy, and their design may not age well. I'm thinking of the concrete-and-stone composite seat supports and "fingers" stretching from the path into the crushed-stone planted areas. I assume there's a practical reason for their being there, if not in their precise configuration, and in any case nature may soon disguise or soften a lot of what now seems too much like an affectation.
The monstrous commercial Chelsea Piers operation robbed Chelsea of the kind of access to the Hudson River enjoyed by most of the communities north and south of us when the designs for Hudson River Park were approved. Chelsea is only now getting its first real park.
I've included only one photo here, an aesthetic and historically-referenced impression of the new High Line. It's a detail describing some of the materials used in its construction, including the edge of the pavement, a very low steel railing, a segment of the original freight rails, and a look at the beautiful ornamental grass. I decided to hold back on any images documenting the park more thoroughly (they're available all over the internet anyway), in order to make it easier for the reader to experience the environment visually unprejudiced.