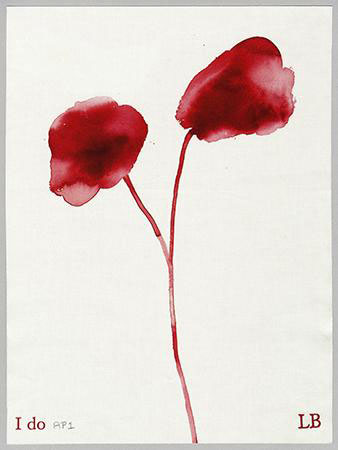 Louise Bourgeois I do 2010 archival dyes on cloth with embroidery
Louise Bourgeois died this morning. I had hoped, and fully expected to see this magnificent, (can I say ballsy?) artist, and extraordinary human being continue well into her second century, but although she almost made it, it was not to be.
Her art is likely to go on forever however; her legend had already begun years ago.
"I do", an edition of an image of two flowers joined on a single stem designed for the Freedom to Marry campaign, was to be one of her last activist contributions to the world blessed by her presence.
I think I first became aware of her generosity and her personal activism in the early 90's when she agreed to contribute to the ACT UP Art Box (those balls again).
This site includes some wonderful images of both the artist and the artist's work.
[image from eyeteeth]