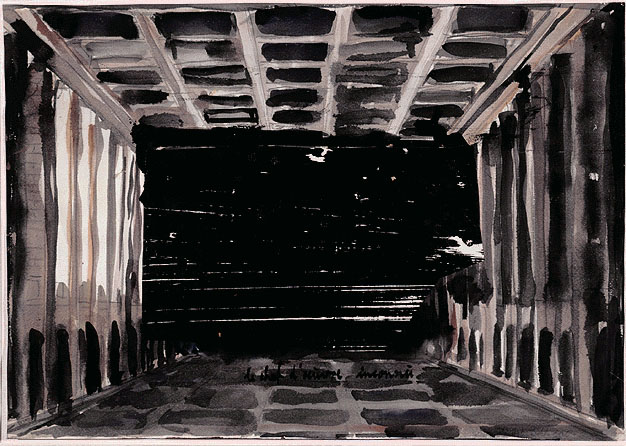 Anselm Kiefer le chef d'oeuvre inconnu ("unknown masterpiece") 1982
"This is private property," a gallerista in towering heels shot back. "We're here to sell art."
A small group of activists were thrown out of the Gagosian Gallery on West 24th Street this past Saturday on the final day of Anselm Kiefer's solo show, "Next Year in Jerusalem". Claudia Roth Pierpont reports from the New Yorker's online News Desk that a woman in her late fifties was swept up in the fracas which resulted when New York police officers called by the gallery arrived to evict the last four of the group (they had originally numbered eight). They had explained to gallery representatives that they had wished to participate in the conversation initiated by Kiefer's work, and identified themselves as part of U.S. Boat to Gaza. Ingrid Homberg, who was visiting the exhibition independently, and who had tried to discuss it with the activists, was injured and fell when one of the officers dragged her out of the gallery.
It's worth reading the Gagosian press release for the show, for the ironies provoked by Kiefer's steely, overprotective New York gallery alone. The text includes these words, describing the central piece of the exhibition, "Next Year in Jerusalem":
This imposing structure contains Kiefer's provocative act, literally and imaginatively, to remind [us] of what has happened and what can still happen in the world. Occupations [the name of the piece, begun in 1969] is a visceral confrontation between history and the present that is lodged in the stuff of memory
.
ADDENDUM: The artist and writer Mira Schor has more information, and a wise, ruminative essay, "Anselm [email protected] Gagosian: Last Century in Berlin", on her own blog.
[image (of a work not included in the Gagosian show) from Deutsche Bank]