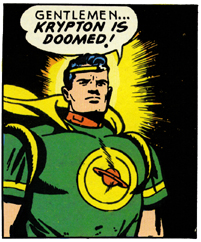 Jor-El, father of Superman
I haven't posted much of a true politcal nature lately. Frankly, I've felt that the game is over as far as this benighted nation is concerned. We've failed as a society and as a republic. Except for my concern about this exceptional international republic called New York, I think I may have given up.
The damage is already too mortal. At this point I have no interest in incremental change. You're not likely to find me at meetings any more. The option of revolt, which would require a count of people and a kind of awareness and courage totally inconceivable in a country which thinks the Democratic Party is The Left, would seem to be out of the question as a viable means for rescuing this state - in spite of Jefferson's suggestion that we needed a revolution every twenty years. For the sensitive individual who mourns his country's death both as an idea and as a reality, I see no real alternative but emigration, even if it is only an internal emigration. For now, I'll be staying in New York City - and traveling abroad as much as possible. Like Tony Kushner's Homebody, I love the world!
I see no argument why a reasonable person should raise a hand, even a computer keyboard finger, to fight for something the rest of America clearly doesn't want. As hard as it has been to accept, I have finally come to the conclusion that most of my fellow citizens actually have the goverment they want right now. I don't know how else to explain George Bush or the complacence of the entire population in the face of the tyranny, and stupidity, of this administration.
I have no doubt that there is going to be hell to pay, and although it will continue to be paid for by others all around the world, in the end we will not escape the damages ourselves. We will disintegrate. We can only hope we will be quaint enough, and sufficiently nonviolent, to attract foreign tourism.
The forces of ignorance, superstition, hatred and greed have certainly prevailed nationally and, because the institutions which might have saved us seem to have been irreversibly corrupted, I don't see the country coming out of this in my lifetime. I hope I'm wrong, as I was when decades ago I assumed that the liberalism of the 60's would just continue to thrive and expand here and everywhere, but I doubt it.
Arthur Miller doesn't seem to have ever had any illusions about the triumph of goodness and light in this much-too-proud republic. A letter [by Barbara Allen Kenney] in the latest issue of The Nation reminds its readers of an article Miller wrote wrote in the NYTimes shortly before the 1972 election. He was addressing the reasons why George McGovern's candidacy had not attracted serious support.
What this tells about our inner attitudes, I think, is that we are far more apprehensive than we are confident of ourselves; and that what we want in a political leader is enough larceny, enough insensitivity to permit him to do our dirty work for us, to fight dirty in a dirty world.
Miller was writing in an era when all four American "estates" were like pillars of the Enlightenment compared to the miserable players we have today. More than thirty years later the goverment of the most powerful nation on earth is fighting very, very dirty.
We're all doomed.
If and when I begin to feel otherwise, it will show up here. Is that a qualification of everything I've written above? Maybe. After living with it all these years, how can I now let a mechanical George Bush doll take away my essentially pollyanna outlook?
[image from theages]