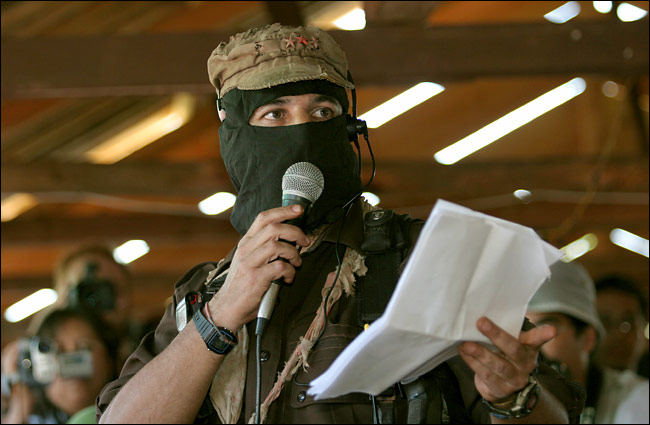 Subcommander Marcos
Well, maybe not, but he sounds really good, and he still looks wonderful.
His words, especially since they're from the mid-90's, won't be news to many out there, but I tripped over this powerful quote from Subcommander Marcos while trying to get more information about the Mexican rebel this morning. I had just read this piece in the NYTimes about his current campaign to move his great nation to the Left. It was accompanied by this attractive photograph. After more than ten years of news accounts and imagery, I was immediately smitten all over again. The reporter himself was not immune to his attractions, for he wrote that Marcos "may be the only man in history to make a ski mask and pipe look sexy."
Marcos is gay in San Francisco, black in South Africa, an Asian in Europe, a Chicano in San Ysidro, an anarchist in Spain, a Palestinian in Israel, a Mayan Indian in the streets of San Cristobal, a gang member in Neza, a rocker in the National University, a Jew in Germany, an ombudsman in the Defense Ministry, a communist in the post-Cold War era, an artist without gallery or portfolio.... A pacifist in Bosnia, a housewife alone on Saturday night in any neighborhood in any city in Mexico, a striker in the CTM, a reporter writing filler stories for the back pages, a single woman on the subway at 10 pm, a peasant without land, an unemployed worker... an unhappy student, a dissident amid free market economics, a writer without books or readers, and, of course, a Zapatista in the mountains of southeast Mexico. So Marcos is a human being, any human being, in this world. Marcos is all the exploited, marginalized and oppressed minorities, resisting and saying, 'Enough'!
[image by Adriana Zehbrauskas from the NYTimes]