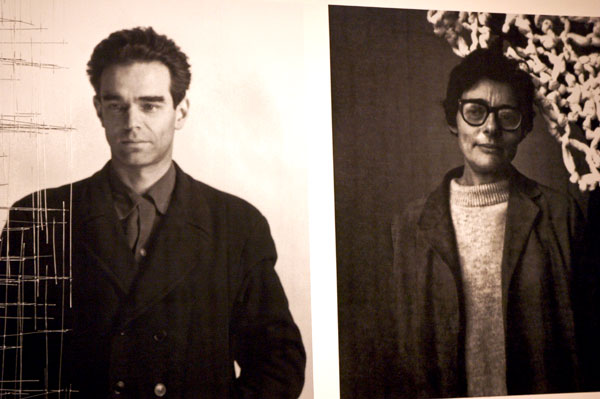 these portraits of León Ferrari and Mira Schendel introduce "Tangled Alphabets"
Schedule complications kept Barry and me from MoMA's Tuesday press preview of "Tangled Alphabets: León Ferrari and Mira Schendel", so I missed my only chance to photograph anything in this wonderful show. The only part of the exhibition free to cameras on our visit the next day, during one of the members' previews, were these two handsome blown-up photographs mounted outside the entrance to the galleries, taken when these South American artists were young. Schendel died in her late sixties, in 1988; Ferrari, almost 90 now, is still working - and still making righteous mischief.
I am very, very sorry I didn't have a chance to capture and share here some images of Ferrari's metal sculptures and Schendel's hanging filaments or transparent papers.
I really recommend the show, and the museum itself has to be commended for mounting a serious exhibition which is, as Barry said when we left the museum on Wednesday, hardly designed as a money-making tourist magnet; being virtually entirely monochromatic, it almost seems to be discouraging traffic.
I was ignorant of both of these artists until I found myself marveling over and over at the beauty, the audacity and the conscience of the works by Ferrari which I saw displayed by several galleries participating in PINTA last November, and before I spotted some stunning drawings by Schendel at Eleven Rivington two months earlier.
The brilliance of the art scene in New York can easily turn us all into provincials. Until visiting "The Geometry of Hope: Latin American Abstract Art from the Patricia Phelps de Cisneros Collection" at the Grey Art Gallery in the fall of 2007 I had probably operated under the assumption that if there were anything to know and value about South American abstraction, as New York sophisticates most likely we already knew it and knew its merits: Any exhibition devoted to the subject would probably be largely a kindness or an exercise in recondite art history.
The Cisneros collection was an eye opener for me, and a lesson for avoiding similar surprises, embarrassments really, in the future.
ADDENDA:



Roberta Smith works her magic in a review of the show which appeared in today's New York Times.


This chronology from the Cecilia de Torres gallery includes some great images of Ferrari's life and his work.