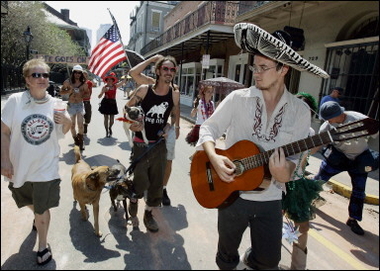 A 'Gay Parade' gets under way in the French Quarter of New Orleans. as a determined handful of hurricane survivors vowed to keep the spirit of New Orleans alive. The official parade was postponed because of the arrival of Hurricane Katrina six days ago. [caption from AFP]
New Orleans has a better chance of surviving if New Orleaneans are there to keep it going. Nobody should even think of leaving it all up to FEMA. Agence France Presse shows us today a little bit of how it's going to happen.
NEW ORLEANS, United States (AFP) - Music, Mardi Gras beads, costumes and confetti returned to the French Quarter as a determined handful of hurricane survivors vowed to keep the spirit of New Orleans alive.

Decked out in a red polka-dot tutu and purple parasol, Candice Jamieson, marched through the city's eerie abandoned streets, rattling a tambourine.

"We're having a decadence parade," said the 21-year-old student, referring to the annual gay pride march, usually a massive and raucous affair that rivals the city's famed Mardi Gras festivities.

"We're trying to bring up everyone's morale," Jamieson said moments before reaching out to catch beads tossed by the only populated balcony in Royal street.

"It's usually a lot bigger," Georgia Walker, 53, called down as she tossed more beads.

. . . .

Asked whether he thought some people might consider the parade in poor taste given that hundreds of survivors remained stranded and that rescue workers were harvesting the bodies of storm victims from streets and flooded homes, [Michael Skidmore] said the city was in desperate need of a little joy amid the carnage.

"We're going to make life better, even if they laugh at us, we want them to laugh," he said as his grass skirt flapped in the breeze.

Dancing in the streets is a traditional way of honoring the dead in the region, explained Diana Stray Dog as she held a pole flying a huge American flag against her shoulder.

"In New Orleans we celebrate death. When people die we go in the streets and sing," she said, adding that she was marching to return some life to the battered city.

"Amid all the tears and all the sorrow we have a big heart and it's not going to die."
One of a number of places sheltering the life which continues in the city, in defiance of the authorities' orders to leave, is Molly's at the Market, described in better times by
one fan
as "Our favorite watering hole in the quarter, full of dropouts, queers, freaks, and phds. Oh yeah, and a fabulous juke box."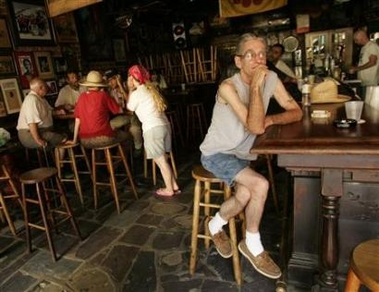 A patron spends the afternoon at Molly's at the Market, one of at least two bars in New Orleans' French Quarter that has remained open after Hurricane Katrina despite a lack of electricity and running water on September 4, 2005. Many residents of New Orleans who live in the few areas on high ground that escaped flood waters say they will defy official requests for them to abandon their homes. [caption from Reuters]
UPDATE: For more on the "tribes" of the French Quarter, see this AP story, the stuff of tomorrow's legends.
[top image by Robert Sullivan from AFP, second image by Shannon Stapleton from Reuters, both via Yahoo!]