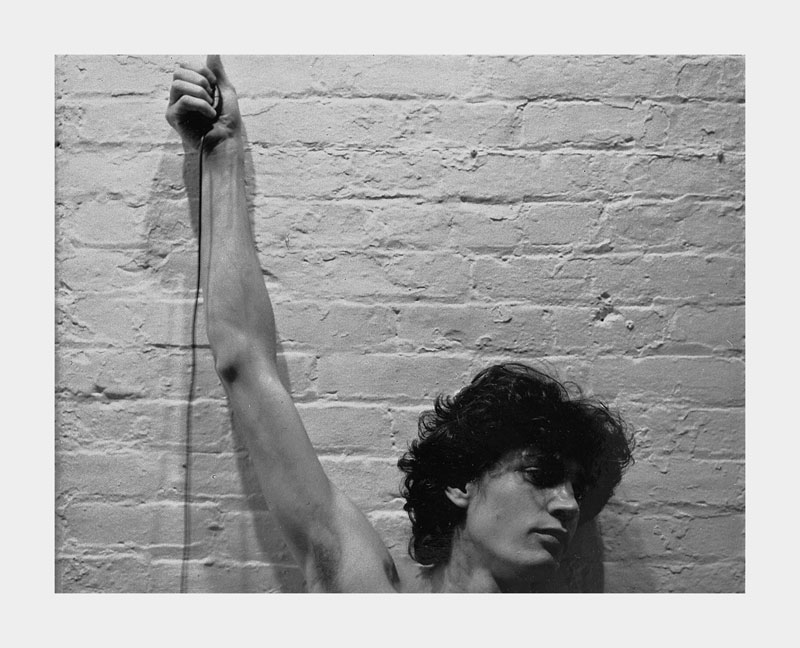 Maybe hold the Speed Stick. [Robert Mapplethorpe Untitled (self-portrait) 1973-1975 Polaroid photograph]
Scientists have very recently discovered that when men become aroused there's a verifiable shift in their body odor, and that women can tell the difference between sexual sweat and workaday smells by processing the odors in different parts of the brain, although they don't consciously realize it.
The headline in the New York Times article reads: "Varying Sweat Scents Are Noted by Women [my emphasis]". The new scientific study which announced this, as reported in the January issue of The Journal of Neuroscience", was made exclusively with a group of heterosexual men and heterosexual women, but I think that the results would be duplicated were the test conducted among homosexual men.
We're all communicating with smell, even though we don't consciously know it.
Before eager queers jump up and down with optimistic hopes, I have to add that it seems neither "gaydar" nor any of our other talents would help at all in advancing the usefulness of this newly-confirmed tool in our sophisticated evolutionary mating kit: One psychologist who was not involved with the study, Adam K. Anderson, an assistant professor at the University of Toronto, has cautioned that in spite of the conclusions of the report we shouldn't conclude that men now know what it is that pleases women [or homosexual men, I would add]. "[the scientists] didn't find activations of typical reward centers or regions associated with pleasure," Anderson said. "It's just as likely that [these women's] brains are picking up a man in heat that they are not particularly attracted to."
Oh.
So we can't know if we appear to the beloved as anything other than smelly. The latest scientific news doesn't offer any scientific shortcut to mating. Whether we're het or homo, it seems that our guy-pheromones can't do it all for us; we're still going to remain pretty dependent on our more culturally-developed contrivances, like conversation and social graces, if we want to know what square we're on when we're thinking of hitting on an an unfamiliar her or him.
[image from "Mapplethorpe: Polaroids", via The Morning News]