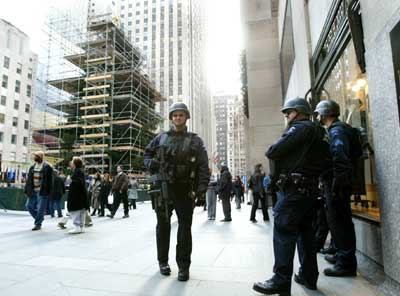 The Rockefeller Center Christmas tree under arrest, for being attractive
Apparently we have everything to fear, especially fear itself.
Bush is in the White House.
On Sunday Newsday's Dennis Duggan stared that fear in the eye. He didn't blink.
I went to Rockefeller Center yesterday to take in the preparations for next week's Christmas tree lighting, a sparkling symbol of good will.

But what a surprise to see the tree surrounded by heavily armed anti-terror cops.

And my reception was anything but warm: Private security guards bum-rushed me twice.

In between these two sets of verbal walking papers, I sat on an outdoor bench with Gregory Murphy, 50, who had witnessed the destruction of the Twin Towers from his Brooklyn Heights home.

"These people here," he said, pointing to some of the patrolling security guards who work for Tishman Speyer Properties, "are making me very nervous."

Tishman Speyer owns Rockefeller Center, the Chrysler Building and 666 Fifth Avenue.

Earlier in the day, they turned down my request to speak to their security people.

"They are worried about security," I was told by a flak-catcher with the Howard Rubenstein public relations firm, which represents Tishman Speyer.

Murphy, an engineer, was trying to relax - which was difficult among bomb-sniffing canines.

"It's pretty nerve-racking. I saw those police, kids really, with their fingers on the triggers, and that didn't make me feel secure at all."

I was stopped by square-badge security guards patrolling the plaza. The first time I was asked what I was doing there. "I hope you're not interviewing anyone," one of them warned.

Of course I was, and I was doing it the second time a security guard on the real estate developer's payroll stopped me. This time I was asked to show my press card, but after flashing it, I still wasn't allowed to cross Fifth Avenue and enter Rockefeller Plaza.
Merry Christmas?
It should have been obvious for some time that both the interests of terrorists everywhere and those of a hell-bent administration in Washington are being served by our fear, especially since the extraordinary security measures it inspires are not likely to confound any intelligent plans of the former and they certainly ease the way for the agenda of the latter.
FDR was speaking about the depression when he warned the country against fear, but he was to be no stranger to either domestic disaster or real war. He would be ashamed of our cowardice and our stupidity today.


[image from Newsday/Julia Gaines]