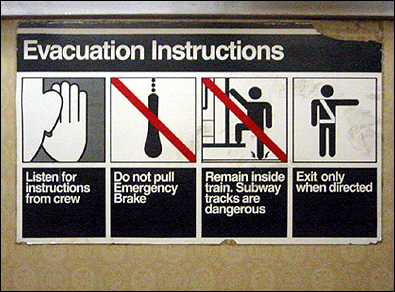 this is as sophisticated as it gets
Ray Sanchez knows what the city won't tell us: No one is really doing anything about subway security. But then, why should we be surprised? The subway isn't the politicians and bureaucrats' thing. They don't use it.
At the same time it hasn't escaped the notice of some of us that there's still talk about entirely shutting down Penn Station and the Main Post Office during the Republican Convention for the safety of hundreds or thousands of treasured Republican plutocrats.
The conductor stood in the cab of the subway car, her door ajar. People have a false sense of security on the subway, she said. "The politicians who never ride the trains are very reassuring, aren't they?"

The New York Police Department is rushing to train 10,000 officers in counter-terrorism in time for the summer's Republican National Convention, but there are transit workers without fire and evacuation training.

"I'm one of them," said the conductor, who has eight years on the job. "You hope common sense is enough to get you through an emergency, but, you know, common sense goes out the window."
And, in the event, the riders too, if there's going to be no direction from "security."
[image from Rachelle Bowden at rachelleb]