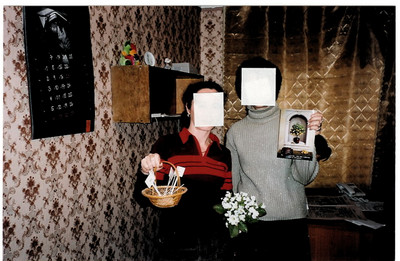 after unpacking a suitcase in Grozny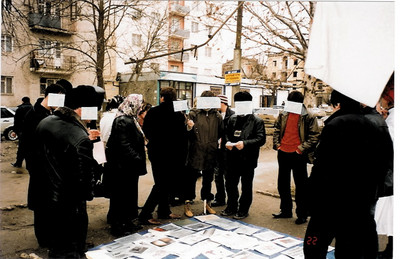 an installation on Friendship of Peoples Square
"Give them bread, but give them roses too" [traditional socialist cry]
I hate loose ends, so I'm following up on a post I did two months ago with another link to the site of the Emergency Biennale in Chechnya and a story which appeared in the Guardian. The project was formally launched the day after I first wrote about it, but in the nature of this extraordinary outreach it has taken weeks to even begin to record its success. From Dan Hancox writing for the Guardian on April 13:
The 62 contributing artists were asked to submit two copies of their work, and duplicates are displayed in the Palais du Tokyo contemporary art gallery in Paris, along with a series of films and talks about Chechen life. These suitcases of art travelled from Paris across Europe to Grozny. The Chechen Biennale has now been established, with the art on display in Grozny's National Library. It will move on to four other cities, in the care of its Chechen supporters, who cannot be named for safety reasons.

This "arts sans frontières" approach makes the Emergency Biennale more than just another art festival - responding with speed and dedication, they are, like Médecins sans Frontières, working "on an emergency footing". Jouanno and Castro are clearly subscribing to the old socialist idea, "Give them bread, but give them roses too." A cultural life is a human right denied to most Chechens: the Russian authorities consented only a fortnight ago to rebuild the museums.
See the Biennale's site, clicking onto "news" and "artists" for more images.
[images, which I believe must remain anonymous although they are posted by "evelyne," are from emergencybiennale]