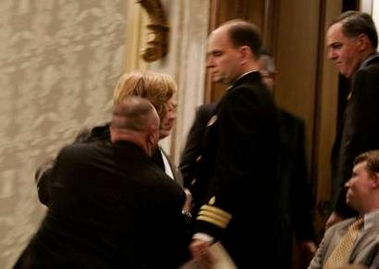 House arrest
If she just had the common decency to wear Old Navy or GAP, it would only have been American business as usual and there wouldn't have been any fuss.
Even MSNBC can't make Cindy Sheehan look like a miscreant.
Capitol Police Sgt. Kimberly Schneider said Sheehan had worn a T-shirt with an antiwar slogan to the speech and covered it up until she took her seat. Police warned her that such displays were not allowed, but she did not respond, the spokeswoman said.

The T-shirt bore the words "2,245 Dead — How Many More??" in reference to the number of U.S. troops killed in Iraq, protesters told NBC News.

Police handcuffed Sheehan and removed her from the gallery before Bush arrived.
[image by Jason Reed from REUTERS]