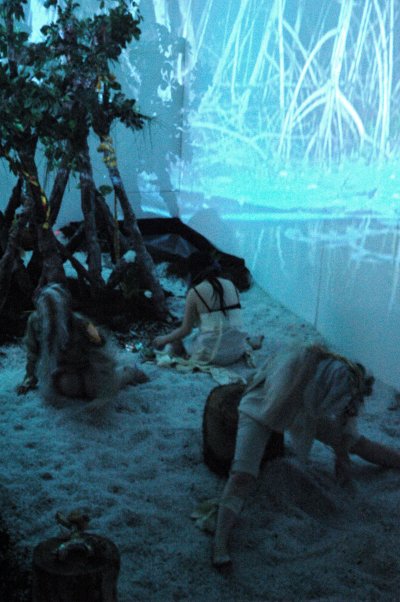 Mary Mattingly Fore Cast: An Environmental Disaster Opera 2006 installation and performance [an image from the performance of December 19]
Because of the ambience (shadows, respectful movement and low buzz) of dozens of my fellow acolytes at the opening reception on Tuesday, "Fore Cast", Mary Mattingly's ambitious "Environmental Disaster Opera" currently in engagement at White Box seemed to me to play almost as much as a recreation of a narrow historic scene as a prediction of a much larger and horrible future world. It was my birthday. I was in a very good mood, so I found myself thinking of the legendary (and much-lamented) "happenings" of the 1960's Cold War era as I was contemplating the artist's somewhat less happy theatrical representation of a world engaged in the details of survival during World War IV.
An extended excerpt from the press release provides a little more context:
Entering a water-filled and truncated landscape, viewers witness the land's predicted end-state, a reversion to its primeval condition and a topographical perspective of a sick new world. The marshy waterscape is the setting for the future of a civilization ensnared in an unceasing loop of WWIV, a war Albert Einstein foreshadowed as being fought with sticks and stones. With an unparalleled innate sense of intelligence, wit and craft, Mary Mattingly creates an installation explains the tragic outcomes of this hypothesized war in the not-so-distant future.

Multiple video projectors arranged in a semi-circle fill the walls of White Box and present a "Fore Cast" that will loop for six days and one hour. (A new week, according to Mary Mattingly's proprietary uniform time scale, derived from ancient Assyrian and Babylonian astronomical methodology and translated to a system for future use.) The videos play continuously in White Box's waterlogged space. The main screen portrays WWIV, fought by six groups of combatants ---The World Economic Forum, The Council on Foreign Relations, Bechtel, Nestlé, The United Nations, and B.R.I.C.--- colluding to capture and assert political and economic control over a shattered and borderless world. The belligerents' leaders plot together in a corporate conference rooms, ultimately degenerating into intercontinental world-scale conflict fought with the weapons of Cain and Abel, the war unfolding in disastrous environments everywhere.
Unlike the war itself, "Fore Cast" is going to have a very short run: When it closes at 1:00 am on Christmas morning it will have been open to the public for only six days and one hour (the doors opened the morning of December 19). There will be another live performance during the closing reception at Midnight, December 24.