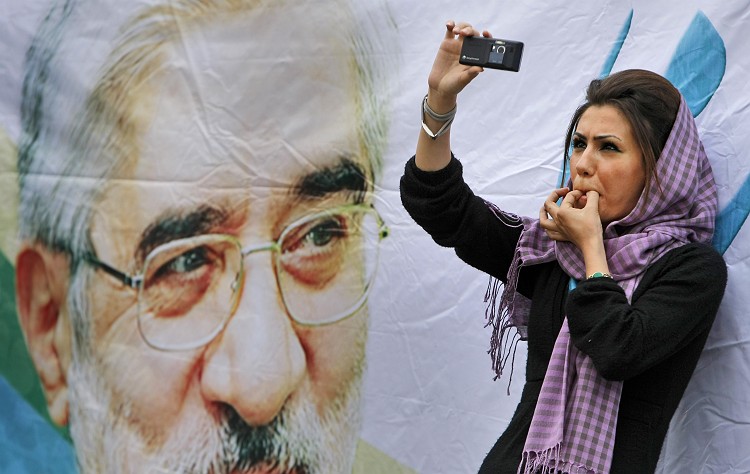 The Iranian protest movement is using social media in innovative ways to organize and get their message across. In this June 9 photo, a supporter of Mir Hossein Mousavi films an election rally. - Spiegel Online
The exigencies of the continuing crisis in Iran have eclipsed the importance of traditional media institutions virtually overnight.
Because of a frightened theocracy's police controls and its effectiveness in blocking both access to and the filing of news, the role for television, radio and newspaper news reporting during the unraveling of one of the most important stories of the decade has fallen into a new category: In the telling of the story the traditional news organizations now occupy a middle position, in time and distance, somewhere between actual news reporting and what we will eventually find in the accounts of historians.
We have all become the reporters, in a gradual development whose significance is made clear and dramatic in the way in which we are learning about what is going on in the streets and homes of Iran this month, where it is new media which is keeping a popular revolution alive. Long live new media!
The impotence of old media may look like merely the consequence of a single emergency, but at the moment it's an emergency without a denouement. Also, because there are certain to be others like it, and because our social media tools are only going to become more accessible and more ubiquitous, it's looking like an impotence from which it may never completely emerge.
Together with the many past and continuing criminal failures of our news establishments and my excitement in watching the human and technological drama of a growing popular role in creating and reporting the news, I have to balance my treasuring a modest early experience in print journalism and my enduring pleasure in reading the best work of journalists published in hard copy. For that reason I have complex feelings while watching what may be the imminent demise of these hoary, once-great institutions which are already-so distressed: It's pretty sad, and I confess to feeling embarrassed for all of us when I read postings, on the BBC, the New York Times or the Guardian sites for instance, apologizing for not being able to get a story from their own reporters and camera crews.
The television, radio and print news media may soon be left with merely a secondary role (if any) sifting, analyzing and commenting on information provided by outside and structurally independent reporters on the scene who are using the latest personal technology.
[image caption and otherwise uncredited image from Spiegel]