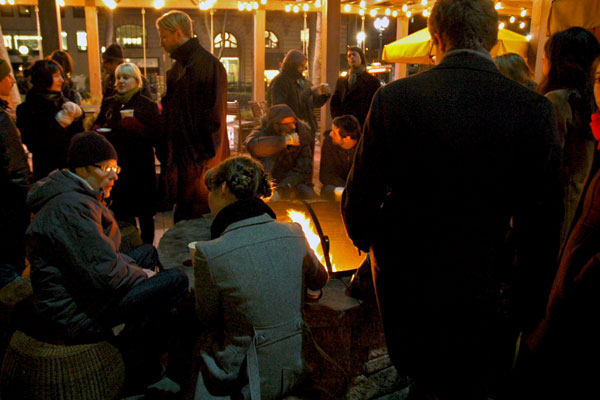 this is not a reenactment
It looks a bit like a hobo encampment, but the group huddled around the fire in the picture above is actually a part of the very jolly crowd attracted to the opening of "Battle of the Brush" in Bryant Park Thursday night. The occasion was one of the oddest openings of the year, to one of the most creative art shows of the year.
Great idea: Bring the art to the street (or at least the park); adapt an existing venue; and still end up with a clean, white space.
The work is on view in closed, retrofitted and climate-controlled vitrines (actually, two of the booths which had recently housed The Holiday Shops at Bryant Park). Visitors will be able to see the art, en plein-air, until February 2.
I suppose it could have been even colder on the "opening night," but normally I don't find myself standing still outside on a wintery night in January. I thought it was pretty frigid, especially after I had to remove my gloves to operate the camera.
The burning wood was a boon (boonfire?) however, as were the bottomless cups of hot chocolate proffered by the freezing 'wichcraft folks. Incredibly, overhead heating lamps actually made it possible for some of the crowd to lounge about in the Adirondack chairs we normally associate with summer - or ski resorts.
The crowd was great. I had a ball.
I think the full title of this small painting show, organized by Alex Glauber's Corporate Art Solutions, is "Battle of the Brush: A Civil Reenactment of Two Painterly States." The reference to "battle" is perhaps less than half-serious, but it pretends to describe a clash between current abstract and realist styles of painting. Located where it is, the exhibition draws upon Bryant Park's history as an encampment for soldiers during the Civil War. Ironically, the eight paintings in the show, by eight painters, are installed in two enclosed kiosks , or "camps", and are arranged across from each other on a terrace dominated by a fountain dedicated to the Progressive reform leader and adopted New Yorker, Josephine Shaw Lowell, who spent much of the Civil War nursing the wounded.
The participating artists include:
REALISM REGIMENT: Alison Blickle, Tom Sanford, Nicola Verlato, Eric White

ABSTRACT REGIMENT: Justin Adian, Anoka Faruqee, Patricia Treib, Roger White
Because of the unusual ambient light, the plexiglas reflections, and the cold, the two images below are less than ideal, even by my own modest standards. I argued with myself about whether I should include any picture at all, other than the one showing the huddled fanatics, but I decided to go for some art as well, since that's what it's all about.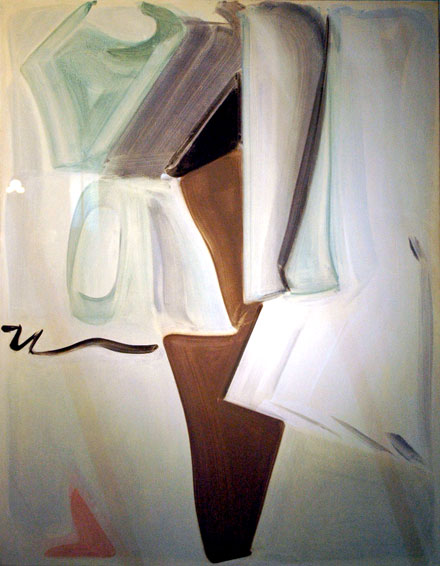 Patricia Treib Armless Sleeve 2010 oil on canvas 56" x 50"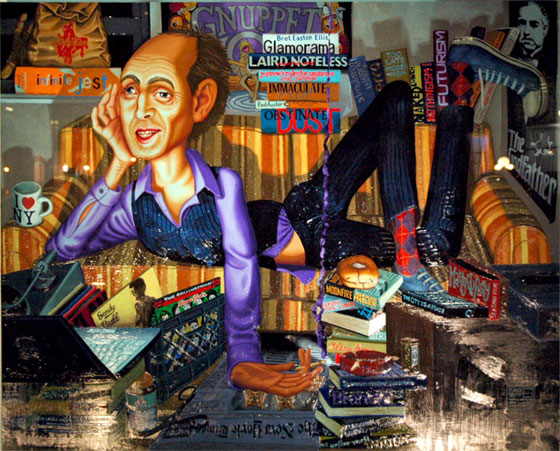 Tom Sanford Perkus Tooth 2010-2011 oil on wood panel