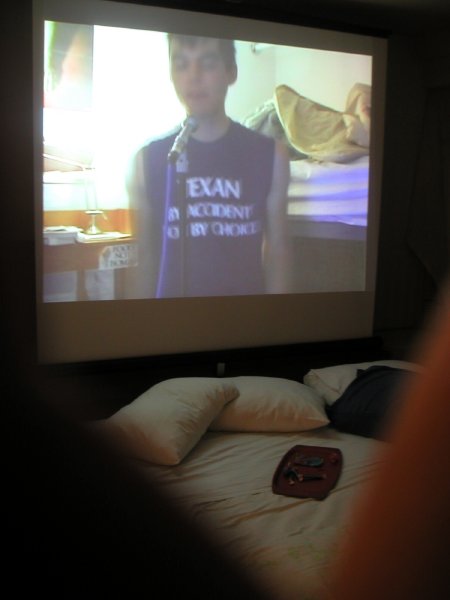 Matthew Lutz Kinoy Mixtape 2004 2005 video still installation view
We spent much of the afternoon and early evening today at DIVA, the Digital & Video Art Fair ensconced in the the Embassy Suites Hotel this weekend, located just above the World Trade Center. Barry is also writing as I'm typing this mini-report, but I'm pretty certain he's saying something like what I am about its easy and seductive attractions.
Maybe it was the requirements of the medium but the experience was relatively serene. Unlike the traditional world of painting, sculpture and even photography, digital or video art demands darkness or at least a close substitute. At DIVA, even the process of repeatedly entering and leaving dozens of small spaces, almost every one liberally sprinkled with a number of animated screens in almost every possible size, and each with its own special claim to our visual and aural attention, seemed somehow far less stressful than my experience with the static displays of the Armory or Scope fairs.
That reminds me; today I really enjoyed the somewhat rare element of sound in the context of an art show, even if those sounds were so often so numerous and so insistent that they added unintended elements to some of the works.
At DIVA there was also the cool excitement of the exotic (finally, in a week which so far has seemed dominated by a New York aesthetic): According to the press pack, only thirteen of the exhibiting galleries were from the U.S. Most of the work shown by the remaining twenty-one seemed to be delightfully, singularly independent, even quirky.
At or near the top of a very rich selection, and regardless of considerations of nationality, I would put the work of Matthew Lutz-Kinoy. A still from one of his three videos being shown by the Paris-based curator Yukiko Kawase is shown above. The video consists of five post-teen U.S. college students in karaoke performance of music of their own choosing. The candy on a tray and the dishevelled bedding are part of the installation and are intended to perform as a welcome to visitors.
His drawings and modest sculptural interventions are scattered throughout the suite, in gestures designed to domesticate its transient hotel spaces.
Lutz-Kinoy lives and works in Brooklyn. He is a student at Cooper Union. He was born in 1984. He seems to be brilliant.
ADDENDUM: One more word about the location: While the "Executive Suites" venue remains just a shelf of hotel rooms, these quite ordinary, furnished environments do more than the walls of any white-space gallery to show how this spunky, even revolutionary art form can be displayed in an ordinary home. We really should get another monitor for our own ordinary, rather crowded rooms. How much are those little hand-helds now? Aha! They don't even need any wallspace!