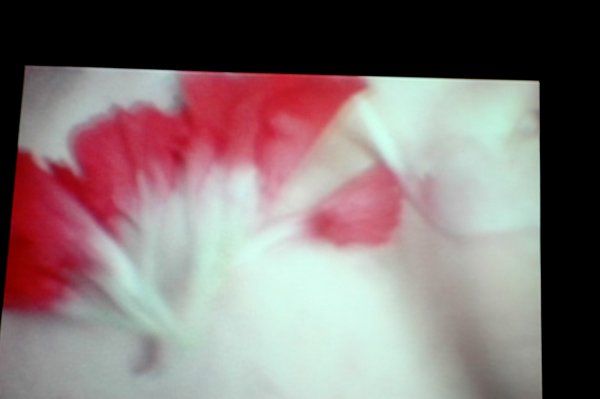 Scott Treleaven Lustre 2006 super8 and digital video [still from installation]
This image by itself will tell you almost nothing about Scott Treleaven's masterful show at John Connelly Presents, and it doesn't even say much about the beautiful ten-minute film from which it is excerpted.
But it's very beautiful, very disturbing, and very smart, like everything that comes from Treleaven's hand, in spite of or perhaps very much because of the suggestion of violence (never realized).
A first exposure to this artist's work will inevitably leave the viewer/inductee/collaborator feeling like she or he has been missing out on something very foreign - and familiar. Some will want to know more. The best route toward what must be described as a kind of anti-enlightenment is to see more, and this is now made easier with the book. But a short excerpt from this show's press release will help.
Based on his experiences publishing a densely collaged punk/occult zine of the same name, the film fleshed out the artist's core obsessions: that a dark, anthropological current unites a number of contemporary youth subcultures; that the latter-day punks and mystics in his photographs and films represent an obsolete (or simply sleeping) warrior class; and that occult and symbolist language still remains the most accurate way of describing and dignifying the human condition.
The current show includes the new film and a number of works on paper, notably collage, as well as photography and sculpture, but it was "Lustre" which brought me back to the
moment
I first encountered his work almost three years ago, with a screening of "THE SALiVATION ARMY" here in New York.
The gallery has nearly two dozen images on line, including some not a part of this show, so I don't feel obliged to add my own. Well, just one, for a taste or a tease.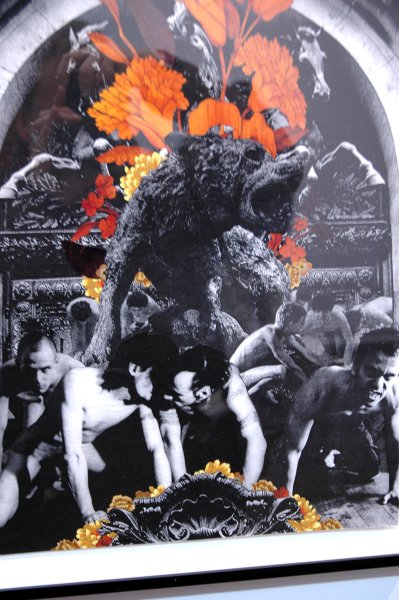 Scott Treleaven Lear, III vi 2005 Collage on paper 18.25" x 13.75" [large detail]



I can also show an image of a sculpture not on the web site and not even identified on the preliminary checklist provided last night at the opening. The material is simply a jumble [pack?] of coyote skulls, a reference to the cast and character of an adaptable beast of famously ambiguous status often seen in the artist's work. Tiny cutouts from the same Japanese chiyogami paper which appears in the collages on the walls of the gallery have been glued to every surface - other than the very white teeth.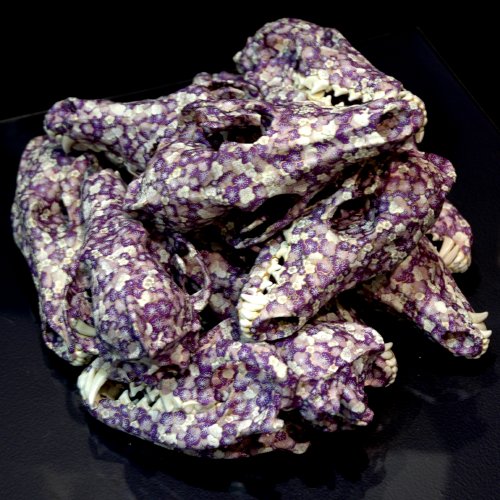 Scott Treleaven skulls 2004-2005 humanely-acquired canine skulls, paper, alkyd; dimensions variable [installation view]