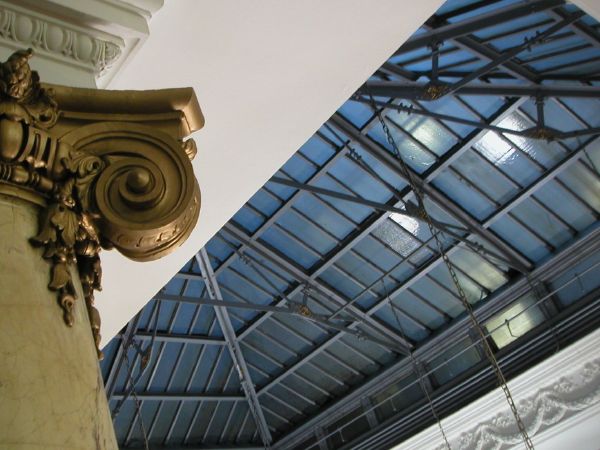 view of the upward reaches of the Library room inside the building of the General Society of Mechanics and Tradesmen, including detail of a faux-marble pillar and the ironwork which supports the huge skylight with its gilt-decorated opening mechanisms.
Bill Dobbs got me out of the apartment earlier than usual on Sunday. The incentive was the 17th annual Independent & Small Press Book Fair and, probably no less important, its venue, the century-old building occupied by the General Society of Mechanics and Tradesmen. The Society itself was founded in 1785, the library in 1820, although those 184 years still make it only the second oldest "private" library in New York. That title goes to the New York Society Library, organized in 1754.
It was great fun, and the fact that I left with my wallet only a little lighter than when I entered these wonderful spaces is no measure of the temptations available. It does say something about the event's attractions for the impecunious reader. I'll be back next year and I'll try to bring other small-bookies.
A small, random selection of some sightings:
Susanna Cuyler's delightful little books (I bought a few items off her table, including "La Derniere Fleur," an illustrated very short story of James Thurber, translated by Albert Camus)

A new illustrated New York subway book from Israelowitz Publishing

Many children's books, but the table which stood out from all the others included "It's Just a Plant: a children's story of marijuana," from justaplant.com

Some great vintage images, postcard size, next to the Paris Review table (I bought the one which shows George Plimpton with some friends at a sidewalk cafe, fifteen saucers stacked in front of him, looking all of fifteen himself)

"The Itinerary of Benjamin Tudela: Travels in the Middle Ages," a twelfth-century journal of the travels of a Spanish rabbi through Europe, Asia and Africa, in a faithful translation from the Hebrew. I took this beautiful book home, but it was only one of at least a dozen on the table of Italica Press which will still tempt me. Oh yes, their address would amuse almost anyone: 595 Main Street, New York, NY. My own puzzlement disappeared when it was explained that New York's Main Street is on Roosevelt Island