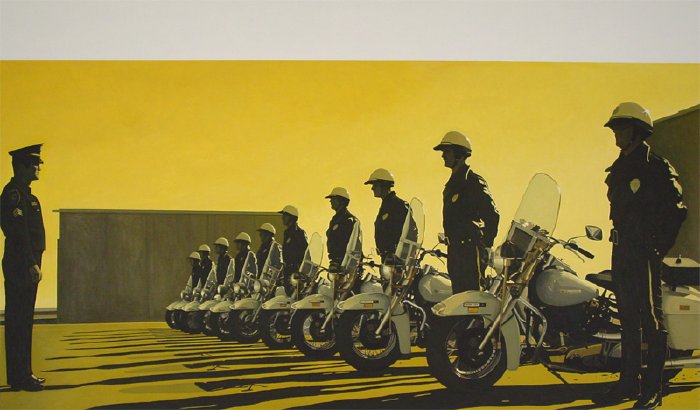 Dennis Kane Them 2003-2004 acrylic on canvas 48" x 81"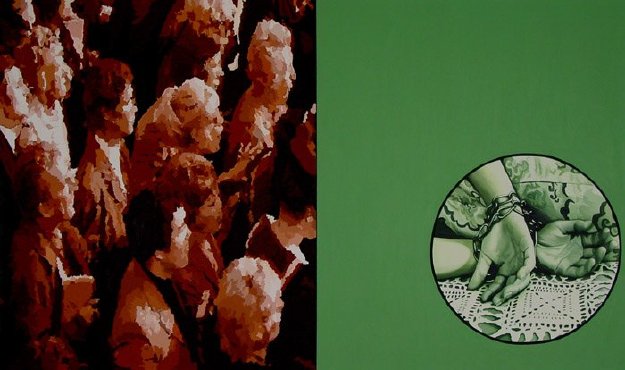 Dennis Kane Seen 2004 acrylic on canvas, two panels total 36" x 62"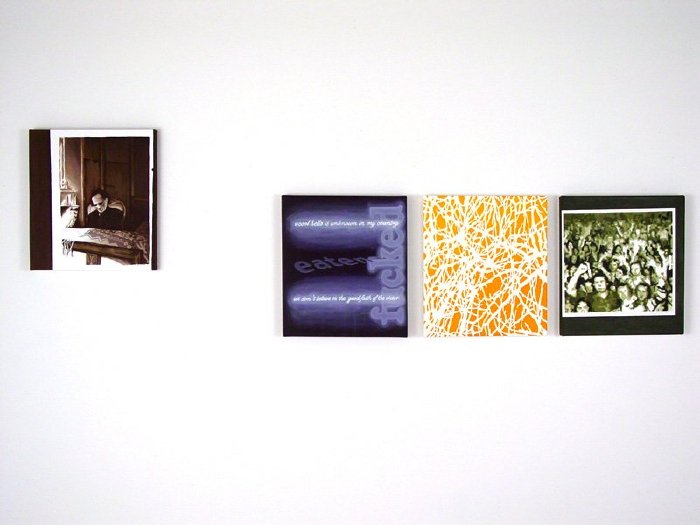 Dennis Kane Potlach 2004-2005 acrylic on canvas, four panels each 14" x 19"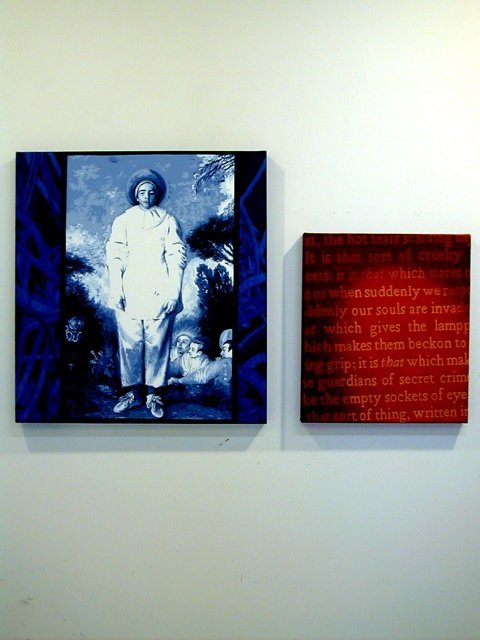 Dennis Kane That 2005 acrylic on canvas, two panels, 26" x 24" and 19" x 16"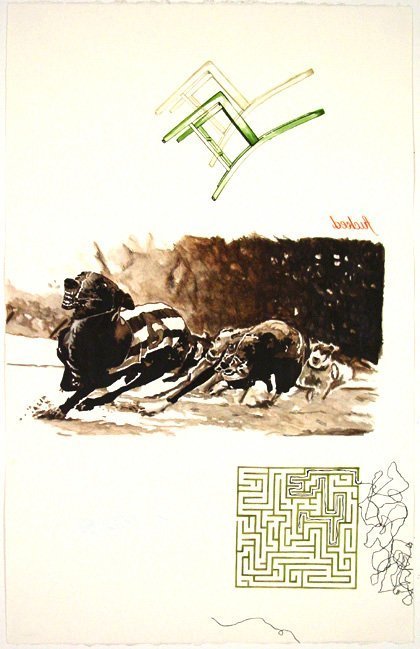 Dennis Kane Post 2005 watercolor and pencil on paper 22" x 36"
I think this post is something of a first for this site. It's in the form of an on-line gallery of work by a single artist, Dennis Kane. I'm uploading these images because I really like the work, because these are great jpegs and because this is the only way most people can see it - until he's picked up by a gallery with real walls rather than pixels.
In the interest of full disclosure, Kane was a friend and excellent conversational company long before we ever saw his art. We own one of his drawings but would like to live with more of his work. When we finally visited his studio last year Barry and I were greatly relieved to find that we didn't have to feign enthusiasm for his creations. I'm no good at feigning.
The paintings and drawings are beautiful, but Kane's images, while rarely abstracted, don't reveal their secrets easily. His higher education was focused on philosophy and fine arts. I may be stretching an analogy, but this is work composed by a musician. When not in his studio in Queens Kane may be found working in that most abstract art of all. For the past twelve years he has worked as a dj under the name Citizen Kane ["a wide range of the leftfield, slept on, forgotten stew" - rhythm(ism)].
From an essay by Takashii Tsude:
His works address issues of power as it manifests itself across the terrain of cultural signs. Drawing from obscure film stills, images found in the daily newspapers or in his own photography, Kane molds and constructs paintings and drawings that are both emblematic and open to an extended conversational reading. The nature of the image and technique varies, but the concept of engagement with the viewer remains consistent. Kane avoids didactic narratives, a consistent formal approach, and a heavily repeated iconography. His works are however united in their visual weight. Although not painterly, the work achieves presence through the specificity of each image, and the rigors of his presentational approach.
Closeups of two of the works:
[images furnished by Dennis Kane]