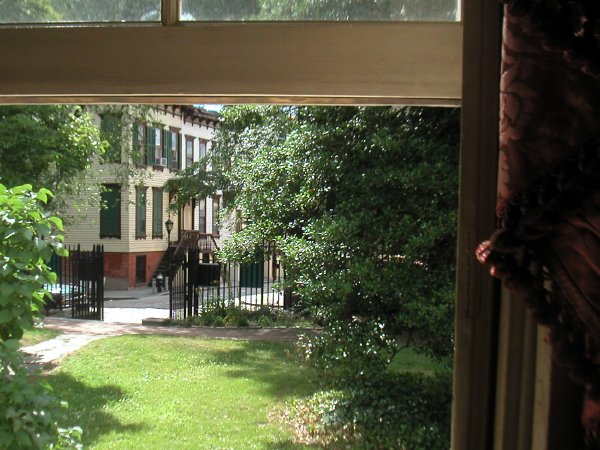 view of the eastern end of Sylvan Terrace through a window of the octagon drawing room inside the Morris-Jumel Mansion
George Washington slept there.
A 1765 wooden American Paladian villa sitting in upper Manhattan on a rise which originally commanded both the Harlem Valley to the east, the Hudson River to the west and New York City some ten miles south, the Morris-Jumel Mansion (actually a country summer home) still offers its considerable pleasures to visitors. Today that means both the community immediately surrounding it and a much larger world beyond; two hundred years ago it regularly meant most of the founders of our republic.
Barry and I visited the house which for most of the nineteenth century belonged to the amazing Madame Eliza Bowen Jumel both out of curiosity about the place and for the attraction of an interesting program of eighteenth and nineteenth century English and German art song presented in the kind of space for which it was composed. It was a concert which could well have been enjoyed by this woman's own guests in that same room over 150 years ago.
On Saturday afternoon we sat in the drawing room below Washington's quarters, listening to songs in English by Haydn and some of his more obscure contemporaries. After an intermission we returned for two lieder cycles by a similarly-neglected Franz Lachner. Birds sang and could easily be seen playing in the trees outside the open windows decorated with red silk hangings.
The performance by the wonderful tenor Rufus Müller and Donsok Shin, his accompanist at the fortepiano, was artistry of the highest order, and would have been an enormous sensual pleasure even without the extraordinary peace and beauty of the venue. Some three dozen guests seated themselves in the octagon drawing room of Madame Jumel's chateau, the walls covered in a painted Chinese wallpaper of flowers and birds on a deep blue ground. We sat in a magic pagoda cooled by large beech and horse chestnut trees standing in what remains of an estate which once covered 130 acres across the width of the island.
After the performance we joined the museum hosts and the two artists for refreshments upstairs in the large central hall which runs behind the front balcony. A huge portrait of the redoubtable dowager Madame Jumel was very much a part of our company.
These intelligently-programmed concerts are scheduled regularly by Music at Morris-Jumel, and we're on the mailing list. Because of its delightfully small scale however, it's hard to imagine how this wonderful series of chamber music performances will survive in this city of mammon. I hope I'm wrong.
NOTE: I can't let this story go without lamenting that no one has yet written a satisfactory biography of the remarkable woman who became Madame Eliza Jumel. I wasn't even able to find an adequate account to link to for the purpose of this post, but the National Park service offers a tease:
The stately two-story Morris-Jumel mansion, built in 1765 in a Georgian style modified to suit a country setting, was purchased by Mr. and Mrs. Stephen Jumel in 1810. Though Stephen Jumel was a former Caribbean plantation owner and successful wine merchant, it was the colorful and controversial Madam Eliza Jumel who became the talk of New York City society. Eliza Jumel's life typified the limited options of ambitious young women born into poverty in late 18th-century America. Forced into prostitution early in life as a means of survival, Eliza's fortune turned after meeting and marrying Stephen Jumel in 1804. The prejudices of society against those with such a background forbade any acceptance of Mrs. Jumel. Wealth permitted travel, however, and the Jumels sailed to France in 1815. There, Eliza found social acceptance, mingling with aristocrats while adopting openly Bonapartist sympathies. Such convictions, voiced soon after Napoleon's exile, proved too controversial for the new French government, and in 1816 Louis XVIII ordered Mrs. Jumel to leave France. Eliza returned to the mansion, but her marriage was soon in decline over Stephen's discovery of her early life and the dwindling Jumel fortune. While Stephen remained in France, Eliza sold business holdings and kept the profits, pursuing social acceptance through wealth while leaving Stephen penniless and hastening his death. Fourteen months later Eliza, then 58, married 77 year-old, former Vice-President Aaron Burr. The marriage was marked by Burr's misuse of the Jumel fortune and the two were formally divorced on September 14, 1836, the day of Burr's death. Jumel spent the rest of her life in the mansion, dying here in 1865 at the age of 90.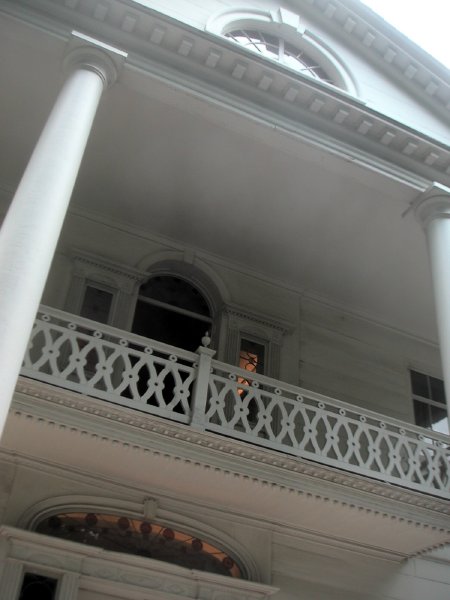 a grand two-story portico protects a small second story balcony at the front of the house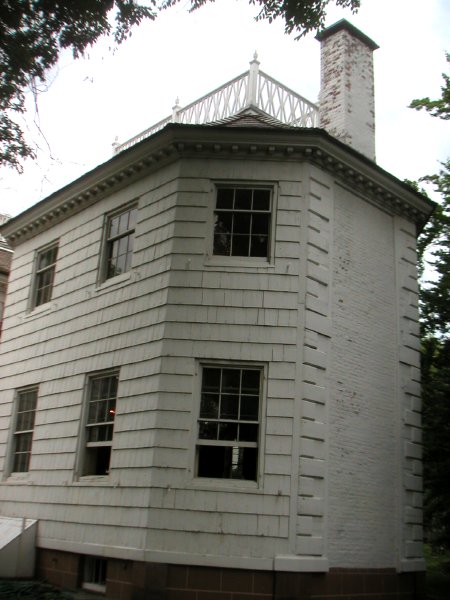 the octagonal drawing room and an upstairs chamber and cabinets is almost a separate garden folly, as it is attached to the rear of the house only at the short plane of one of its narrow ends.