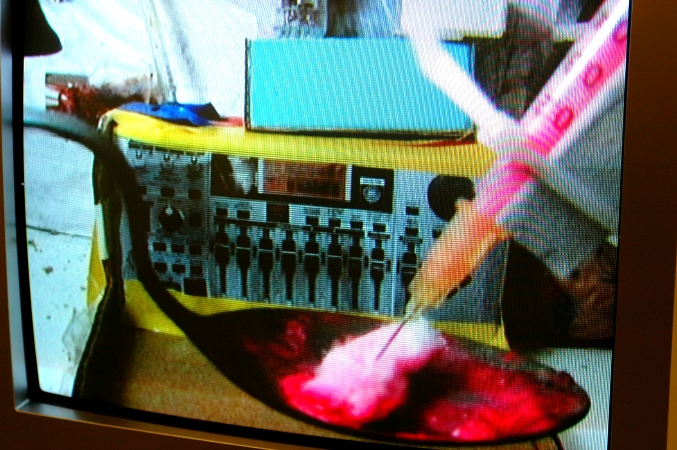 Jˇhannes Atli Hinriksson Dr. 2005 video [large detail still from installation monitor]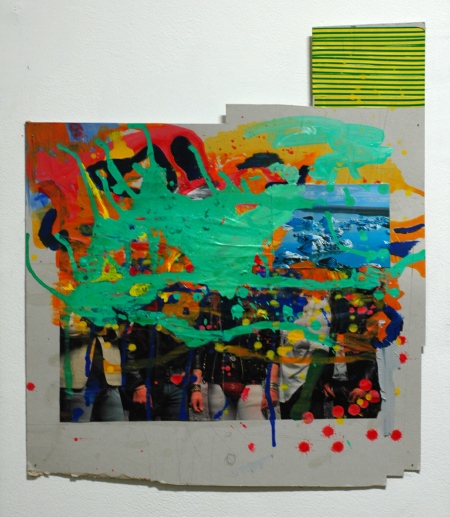 Jˇhannes Atli Hinriksson Untitled 2005 mixed media collage 23" x 20" [installation view]

Jˇhannes Atli Hinriksson PietÓá mixed media 6.25" x 4" x 4" [installation view]
It was a show at HaswellEdiger, so as usual I knew I had to pay attention. The opening reception two nights ago was so crowded however, that there was little chance then of digesting the work being shown.
I'll be back, and not just to sit in front of two videos which were advertising their charms very effectively. As I stood about talking to friends I was becoming more and more engaged with the videos, sculptures and paintings of the Icelandic artist Jˇhannes Atli Hinriksson. I found it difficult to leave any of the bizarre images scattered about the room: Even without any other information to help they were quickly becoming both more and less inscrutable.
A tease from the gallery press release:
The work of Jˇhannes Atli Hinriksson, although Western in its visual assault approach to aesthetics, is still somehow rooted in the sense of drama, irony and animism found in the legends of his native Iceland. His start-stop animation videos, complete with stripped down audio tracks of howling Nordic winds, put claymation metal-heads slackers and other hybrid fuck-ups through a series of neo-Norse, mini sagas that ultimately challenge the viewer to pinpoint where destruction ends and creation begins.